Wednesday, November 30, 2005
Off In The Corner: Their story
In the tradition of inspirational Hollywood sports movies, the story of Off In The Corner ranks up there with the best of them. Unfortunately, they forgot to bring a camera to film it. That is not to say that their story had no audience. Many people were witness to Off In The Corner's underdog story during their twelve weeks of play. For those that we're not fortunate to experience their legacy. This is their story...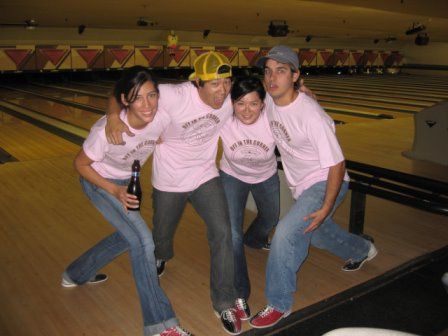 The Jesus Quintana Bowling League or JQBL is one of bowling's toughest amateur bowling leagues in North America. Based out of Santa Monica, the JQBL has a long history of grooming the greatest bowling talent since the thirties. Past bowling league members have included: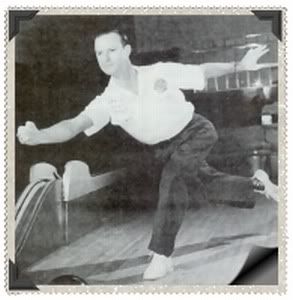 Georgie "Boom Boom" Carmichael, winner of the North American Bowling Championships an unmatched 34 times.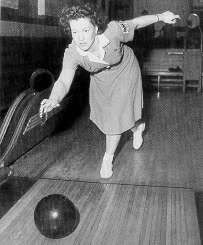 Hattie "Lady Deathstrike" Franklin-Dunwitty, the first woman to win back to back world bowling titles.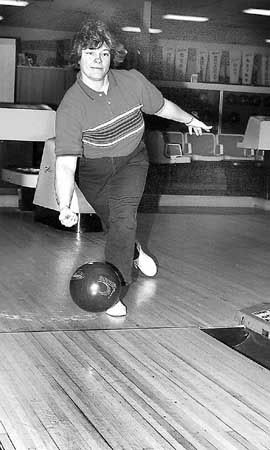 Collette "The Hammer" Carlton, bowled 3 straight perfect games in a row. However, tragedy struck as she delivered her final strike when she collapsed and died on the lane.
Knowing full well the type of competition she would face, Off In The Corner team captain Heather "Fatty McGutterpants" Jack set out to assemble the greatest team of bowling talent she could find.
She recruited her first team member Mary "POP-pins" Rohlich at a community center where Mary was showing deaf children how to teach bowling to blind children.
Mary POP-pins
Impressed by her skills, Heather approached Mary about joining the team.
Tired of her students' inability to pay attention, Mary agreed to join. "They weren't listening to me anyway" she said. Mary also said she knew of another bowler that would be perfect for the team.
Heather didn't need any convincing, and soon they were off to a seedy section of Chinatown in search of their third bowler. They were looking for Eric "Beau" Ling who often hustled people for cash during back alley bowling games. Mary knew that if they searched hard enough, it wouldn't take long to find him.
Beau Ling
When Heather and Mary found Eric, he was laying face down in a pool of blood and vomit after being beaten terribly when thugs realized he was fixing the bowling games. Barely conscious Eric was muttering things that neither Heather nor Mary could understand due to his thick Chinese accent. Having hit rock bottom, Eric gratefully accepted the chance of redemption when he was asked to join the team. This was an opportunity for him to be somebody, and to improve his English which at this point was serviceable at best.
The three of them embarked on a quest to find the last member of their team, a team member that would unite them all in their aspirations for bowling glory. Heather had heard that a bowler of great skill and accuracy lived off shore on a fishing boat near the Santa Monica Pier. His name was Jeff "Captain Jack SPARE-ow" McDowell.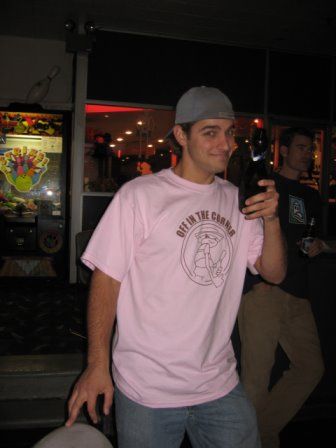 "Captain Jack SPARE-ow"
Jeff was so fed up with the state of bowling, that he holed himself up in his boat where he had lived for the past three years. He was reluctant to join at first, but the three of them, Heather, Mary and Eric convinced Jeff that the team would reinvigorate bowling, and take the sport out of the dark ages it had succumbed to.
With the team now in place, Off In The Corner joined the JQBL. The first few weeks of play were rough. The new team was rusty, but even someone unfamiliar with the sport could see that there was immense potential hidden behind their scrappy performances. They were quickly becoming the team to watch, due to their unabashed cheering, and high five-ing. Off In The Corner was indeed the shot in the arm that the sport of bowling sorely needed. The team was bringing new life and excitement to an otherwise boring spectator sport. One team whispered to each other, "That team high fives, even when they don't make anything!". It's this sort of attitude, the aversion to wild high five-ing and celebration that kept bowling in the dark ages for so long. The other teams didn't know what to make of these antics.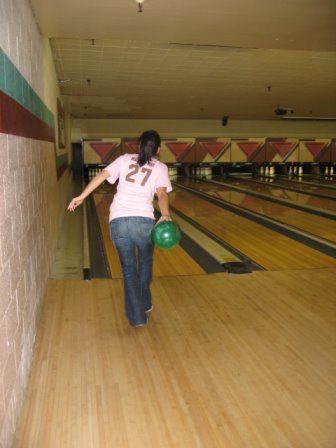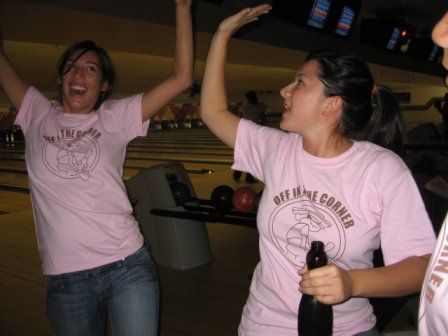 Off In The Corner remained near the bottom of the standings for a while, but they were not discouraged. A marked change in their play occured however, with the inclusion of..team shirts.
The team shirts, proved to be the catalyst for Off In The Corner's amazing climb up the standings. It was serious now. The other teams noticed too. The look on their faces were a mixture of jealousy and fear. They knew that once Off In The Corner had their shirts on, they were unstoppable.
The weeks flew by as Off In The Corner dispatched their opponents with ease. Their margins of victory grew larger in larger as other teams were left in their wake. They were quickly becoming the biggest team in the JQBL.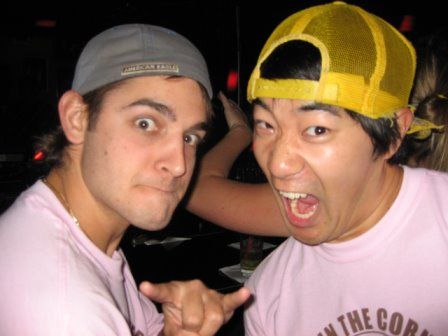 Before anyone could blink, Off In The Corner climbed all the way up to fourth place. Just weeks prior they had no shot of competing, now the team had a legitimate shot of winning the whole thing. Buzz grew around the ranks of bowlers, their reactions were a mix of shock and awe. "Off In The Corner are in the playoffs?", or "They're in fourth place?" was often heard around the lanes. The team was riding a wave of success, and they felt confident that they could take it all the way to to the championship.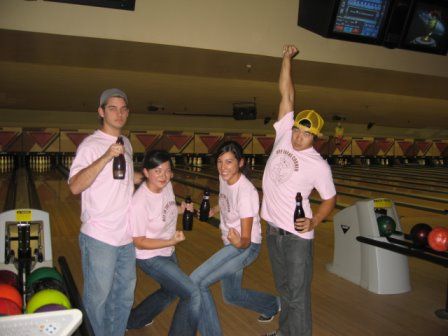 After a week off for Thanksgiving, JQBL playoffs started with sixteen teams. Off In The Corner was scheduled to play LMB Partners. The team showed their determination to win by showing up before any other team to secure good bowling balls, and to discuss strategy.
None of it mattered since LMB Partners proved to be no match for the Off In The Corner juggernaut. Pins exploded, strikes were handed down like lightning. The tenth frame hadn't even ended before the members of the LMB team started taking their bowling shoes off. Off In The Corner had made it through the first round of playoffs.
There was no time to rest though, for round two of playoffs was set to begin. During the night's single elimination bowling playoffs, two games were to be played. The first round started with sixteen teams. The eight winners of that round stayed at the bowling alley for round two while the losers went home. While league coordinators determined the matchups for the second round, Off In The Corner regrouped and remained focused.
The matchups were set, and Off In The Corner squared off against Kings & Queens, a team they have played once before. During the previous matchup, Off In The Corner lost, but that was weeks ago, a different
team
ago.
Things started off with a bang! Off In The Corner took the early lead with Jeff's opening three strike performance. The team eventually developed an 80 point lead over Kings & Queens, by the fifth frame Kings & Queens started hanging their heads. Off In The Corner was on a roll.
Then Tim Farmer came alive. Tim Farmer of Kings & Queens. The bald headed bowling magician decided to turn things on. His consistant play chipped away at Off In The Corner's lead. The Kings & Queens were starting to show a bit of life, but Off In The Corner still maintained the lead.
The Tim Farmer factor increased each time he took to the lane. Wiping his ball with his ratty old Charles Schwab branded ball towel, he somehow called out to the god's of bowling, which resulted in eight strikes for him.
Off In The Corner bowled valiantly until the end, but by the tenth frame the team knew they were out of the running. The scores were so close, with Off In The Corner still in the lead, but Tim Farmer's last few strikes had yet to be calculated. All told, those last few strikes proved to be the nail in the coffin for our heroes Off In The Corner.
Final score: Off In The Corner- 850, Kings & Queens- 899.
Kings & Queens beat Off In The Corner. The word spread throught the lanes..they beat Off In The Corner....they beat Off In The Corner.. Tim Farmer and his Kings & Queens beat Off In The Corner.
So the journey ends for Off In The Corner, but this is no sob story, far from it. They climbed from the depths of the standings, finishing in fourth place with a genuine shot at the title. They may be down but they're definately not out. The new season of JQBL league play starts in February. The team will be back, better than ever. New shirts? New playing style? Who knows. One thing is for certain they'll be practicing and everyone knows that practice....makes better.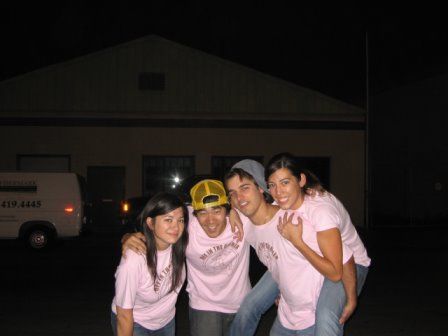 Tuesday, November 29, 2005
JQBL Bowling Playoffs Tonight!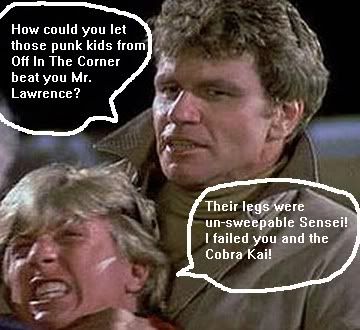 We'll be kicking ass, but
not
taking names. Who wants a list full of losers?
Monday, November 28, 2005
Thanksgiving Photo History Tour!
Thanksgiving photo madness! While wandering around the house during a post Thanksgiving meal haze, I started rummaging through drawers to see what I'd find. I hit the jackpot when I went through my old room, which is now my dad's "Gadget Room", and storage space. Pictures. I found pictures upon pictures. They are ridiculous, and I've posted some winners here..enjoy.
First, we'll start with yours truly. The first few pics, I'll call "The Constipated Look Of Fear".
I don't know why I used to get this look when I was scared, but my parents laugh and laugh about it when reminded. They said that during situations where I felt uncomfortable, I'd clam up, and get this look of fear mixed with the look of a constipated person. I never really cried during scary situations, I'd just get the look and avoid eye contact with whatever was making me uncomfortable.
Here are a few from a visit to Disneyland in 1983:
Apparently I don't like big Fox like mascots hugging me tightly. Not even my mouse ear hat could cheer me up.
Snow White was terrifying. These pics are bringing back horrible memories. Memories I've surpressed for years...
Ok, well at this point, I'm full on crying. I guess it's safe to say that Disneyland was not the happiest place on Earth during that moment. I have to remember to thank mom and dad for the trauma.
Here's a pic from a visit with Santa: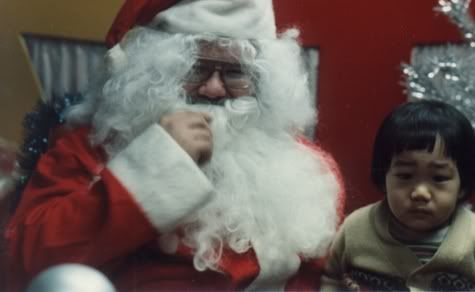 The look on my face seems to say: "Stop touching me there Santa"
I guess gifts scared me too: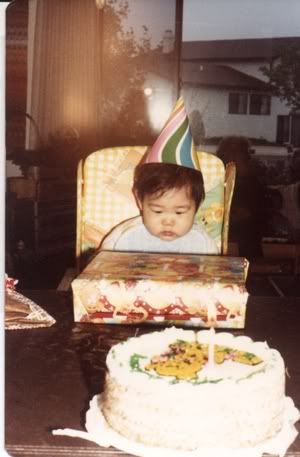 Moving on, I found a picture of awesome hair: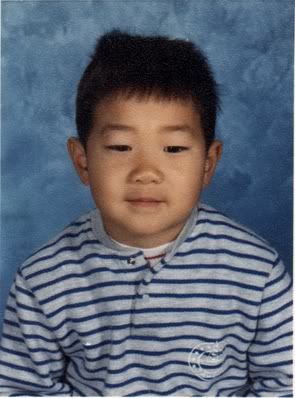 My favorite hair themed picture is simply called "Prince Valiant Hair"
I asked my mom who was responsible for this hair, and she goes "Oh I cut your hair". Upon being asked why she would do such a thing, she responded, "I cut your hair that way so that you could look like dad". I then asked my dad "Uh, why did you cut your hair Prince Valiant style?" and he goes "I don't know, that's just the way your mom always cut my hair".
And I was Superman once:
I remember the day this photo was taken. I was at daycare and it was Halloween. If you look you'll see a bit of red flapping on the left side of the pic. That kid had my exact same costume on. I thought it was great, that we were twin Supermans. He on the other hand hated the idea, so much so that he cried.
People often ask me if I have always been so manly and sexy. Judging by this photo: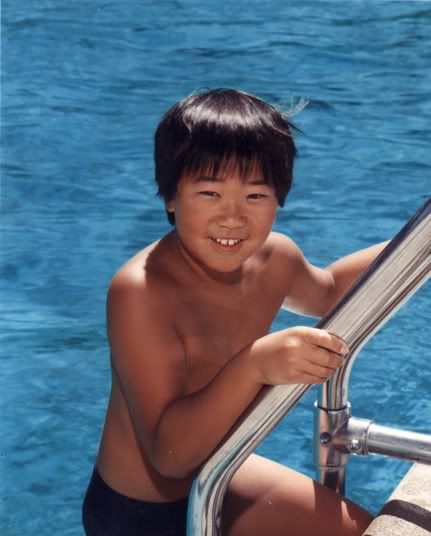 I think it's safe to say that the answer is undeniably "Yes".
Moving on, our photo history journey brings us to my sister Cheryl.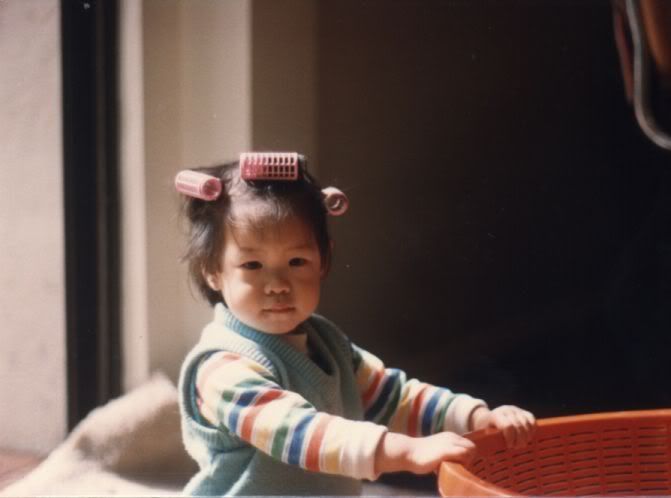 My sister, like me enjoys the wonders of food: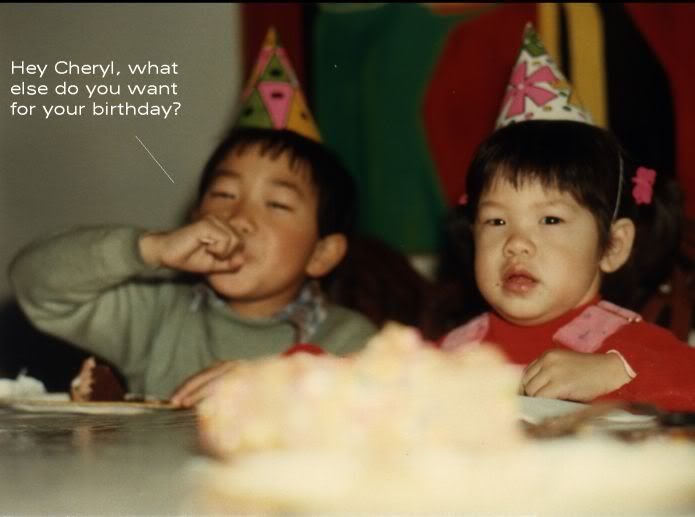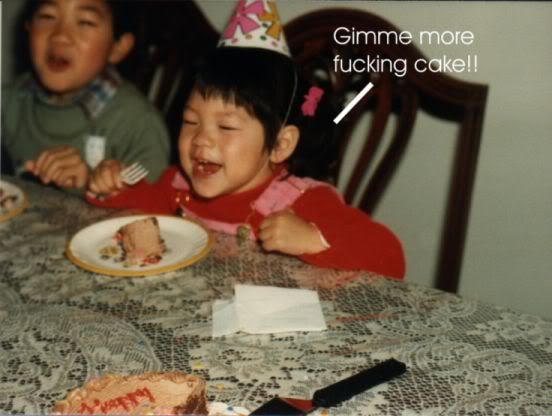 Here my sister is probably discussing hard hitting current events with grandpa. Since this was the 80's they were probably talking about the Iran Contra scandal. Either that, or she's telling him she just filled her diapers with poo.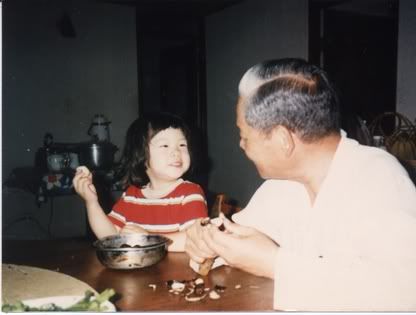 My sister was also in the movie "Breakin' 3: Toddler Edition"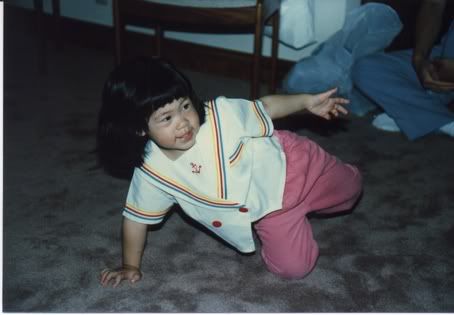 Finally, our tour concludes with my parents. I look at these photos, then look at my actual parents and can't help but ask, "Who are you guys and what happened to the people in the photos?"
This is a pic of my mom: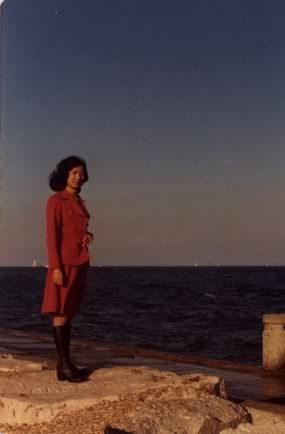 Another with her on the left, and some person I don't know:
This is a photo of my dad, he's on the right getting all crazy with his homies, I think this might have been a play or something: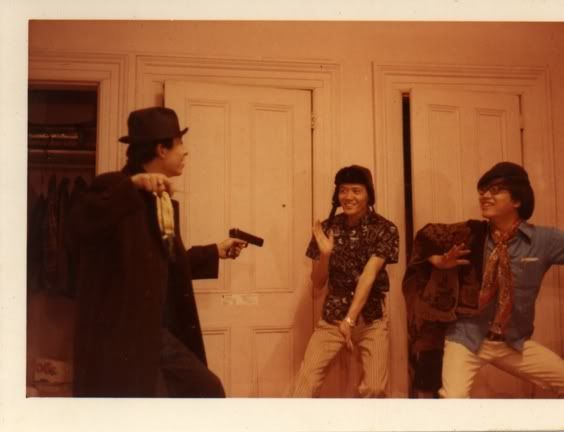 Here he is with a giraffe. The giraffe owns a chain of toy stores that are located all over the country. He and my dad are still friends to this day.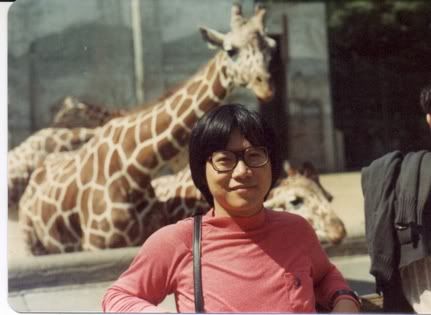 Here's mom and dad in Chicago where they used to live, and where I was born.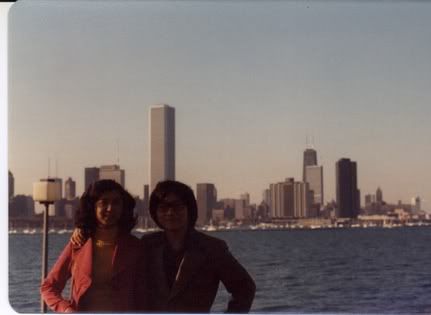 And another pic of them keepin' it classy in front of their Firebird:
Here are recent pics of mom and dad now, taken during my few days at home.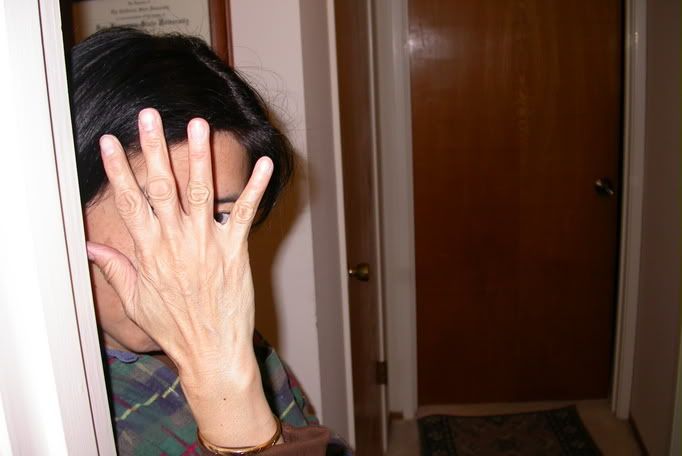 Oh nice move mom. I'll get a photo of you later...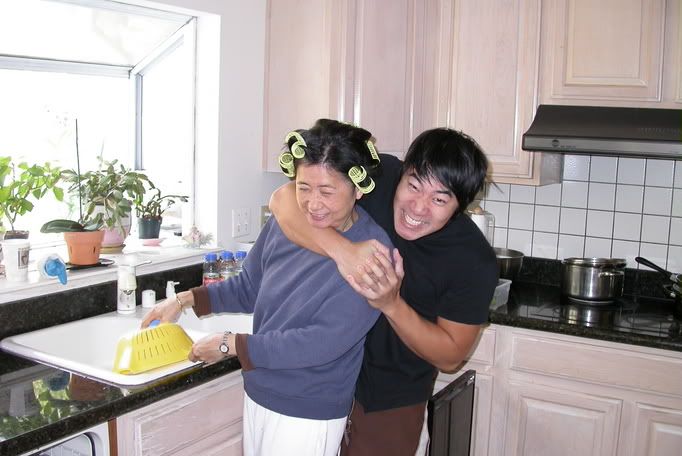 Like right now! hahaha
My dad can be seen in this pic: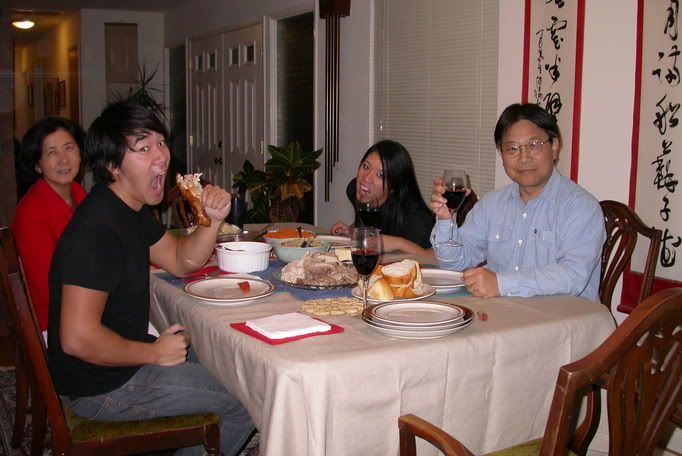 He's posing all snooty with his wine glass despite his two rotten kids stinking up the picture.
As you can see, my parents are way different now then they were back in the swingin seventies. From the old pictures, it seems like they would be more apt to cut loose and party then, rather than now. I guess that's natural..
Wait...no my mom still cuts loose: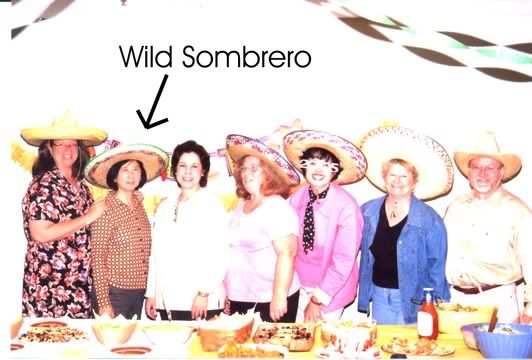 Life's nothing but a huge party for this woman.
These are but a mere fraction of the photographic gold I found in my old room. I still haven't even gone through all the pics I found of my awkward middle school years. Those will be a treat.
Until next time, thanks for taking this photographic journey with me.
Ughhhhhhh.....
Wednesday, November 23, 2005
Tryptophan
Tryptophan. I hate this word. Tryptophan. Actually, it's not so much the word I hate. It's the way people use it. Especially during Thanksgiving.

I don't know why Tryptophan has become the new Thanksgiving buzz word, but people need to chill out with it. It's like they find any opportunity to throw this word into conversation:

"Ohh, I'm so full...and sleepy haha you know Tryptophan!"

"Maaaaan, Turkey has so much Tryptophan, it's like...woah I'm tired!"

And everything during this holiday is blamed on Tryptophan..

"Oh man, sorry I didn't meet you guys out for drinks after dinner...it was the Tryptophan!"

"I can't help with the dishes...it's this crazy Tryptophan..woaah!"

"Shiiit, sorry I slept with your wife...you know..Tryptophan!"

"I killed a man last night...Tryptophan!"

People wouldn't sound so stupid if they just said, "I'm fucking tired because I ate 20 pounds of meat, mashed potatoes, and stuffing so leave me alone you jackass!", instead of trying to wow everyone with the hot new vocab word they just learned to describe their after dinner lethargy.

Happy Thanksgiving.

Monday, November 21, 2005
Edward 40 Hands, and Theo's An American!
Today's weekend recap is a particularly large one, because it is jam packed with photos from Saturday night's fun bonanza...Edward 40 Hands.
Everyone was excited and ready to go immediately, but we had to wait until Kenne got himself a box of fries.
We started the taping right after Kenne got back. Mary's expert taping skills allowed me the confidence in knowing that no matter what I might try to do, the 40's and I were joined together for eternity.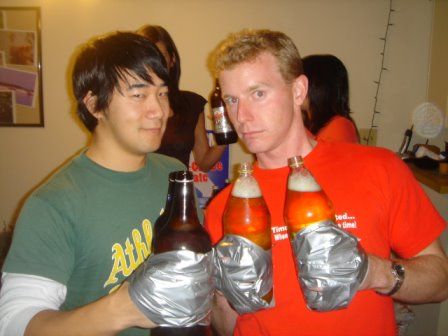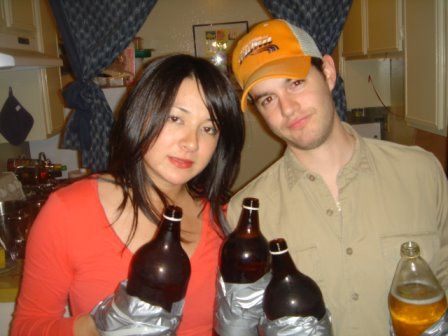 Mary and Clay. Clay rocked two different 40's. It was a taste explosion.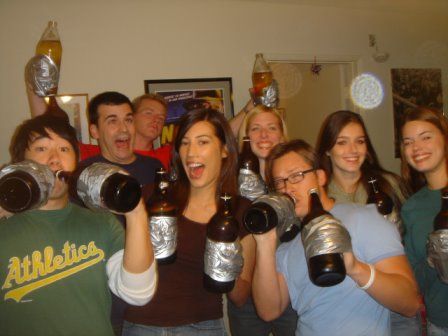 A good strategy for Edward 40 Hands is to drink one as fast as possible so that one hand is semi-usable. You can't be freed from your 40's until you finish both of them, but one semi usable hand is better than two useless hands.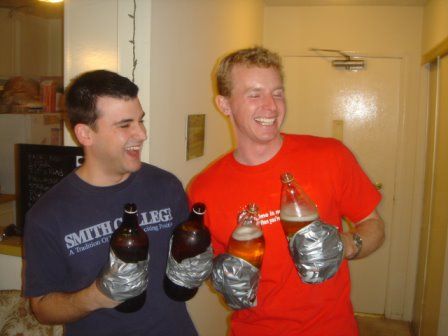 Kenne and Chris
Edward 40 Hand. It's easier to finish one, but harder to get around with two hands taped together.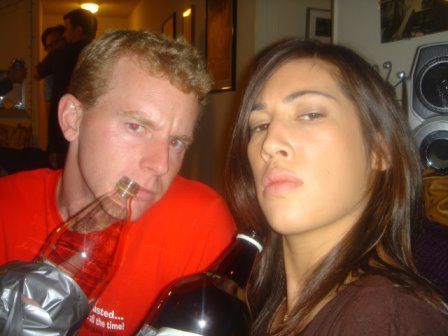 Chris and Heather. Serious drinkers.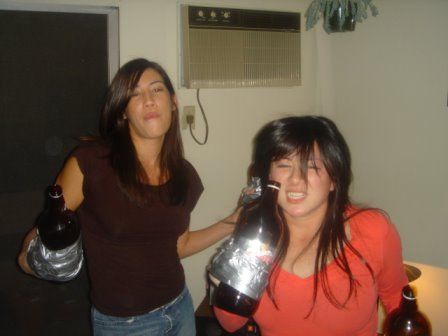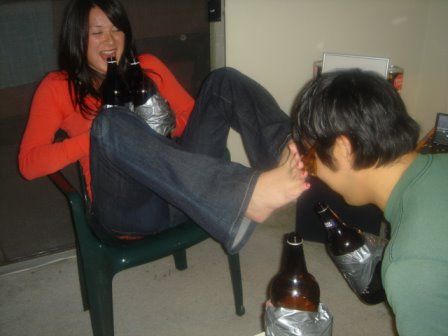 Feeling unsafe, I felt the urgent need to wear safety glasses. Thankfully, Mary was able to place them on for me.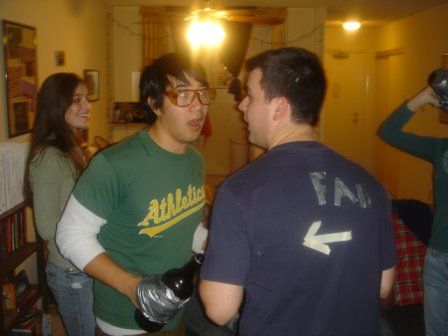 "Whaaaaa?"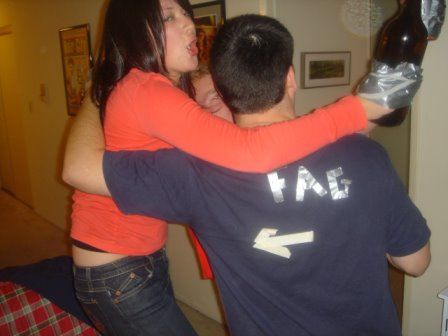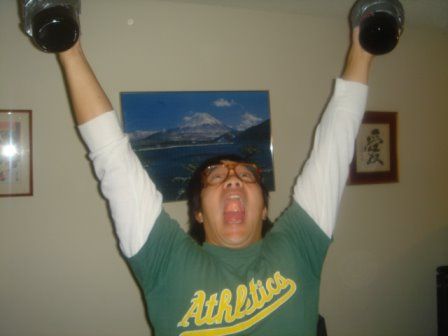 Done. When I got to the halfway point during my last 40, I felt an urge to evacuate my bladder, but I was able to hold on until the end. This also marks the last point during the night, where my shirt didn't have beer spilled on it.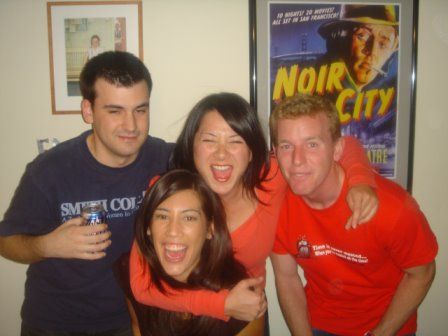 Everyone finished their 40's without incident, which is great because that meant no one peed or puked on themselves. The downside? No one peed or puked on themselves.
The fun continued, as the 40's were just an appetizer before the main course. More beer.
Note the spill on my shoulder. It'll get worse. I don't know why I spill so much, but it's the same thing with food. Especially if I eat spaghetti, and wear a white shirt. Bad idea.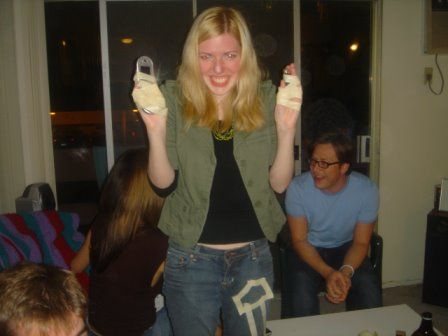 Edward Phone-y Lighter Hands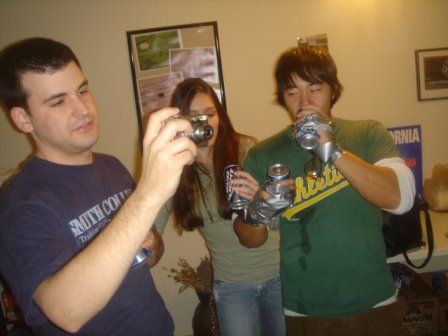 Somehow playing, "Edward 12 Hands" While taped to someone else seemed like an excellent idea.
Later my flat Asian ass lost in the "Awesome Butt Contest"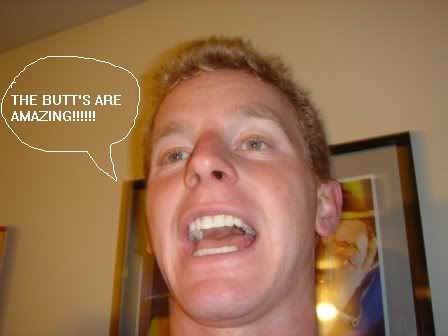 The real winner was Chris, he'd never seen such bodacious butt-ery in his life.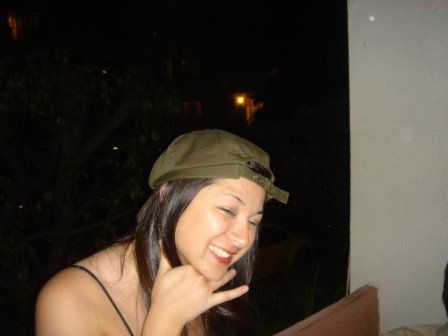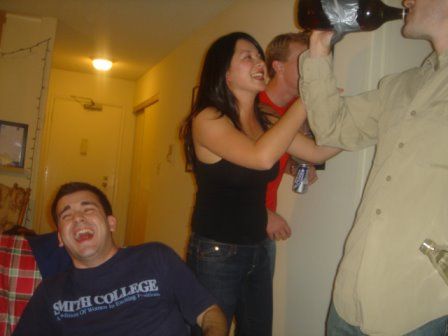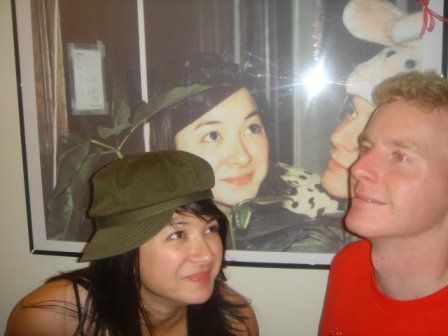 This picture looks familiar....
It was only a matter of time before this happened to someone: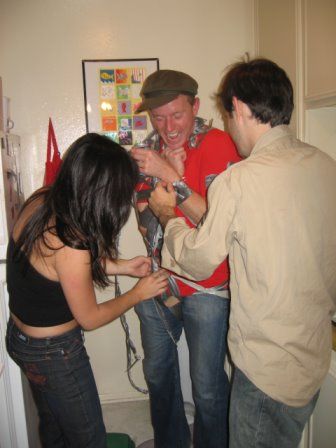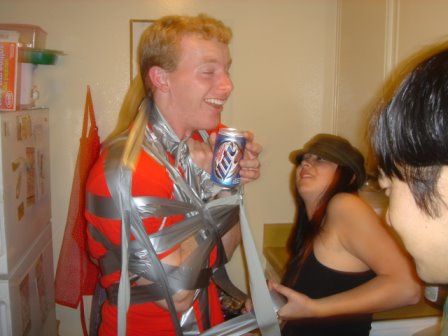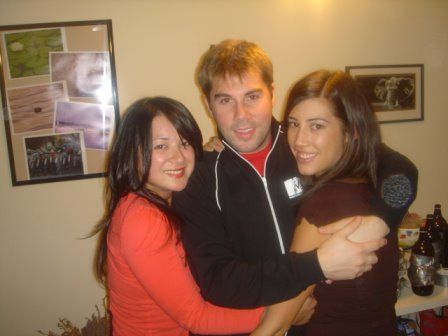 Jason! Thanks for taping and photographing! Your reward? Being the meat in a sexy sandwich.
Earlier in the night Kenne's phone rang but he couldn't answer it because of the 40's, so he kept thrusting in Jason's direction with his hips to try to get him to dig his phone out of his pocket. Jason didn't understand what was going on and backed away from Kenne going "What! What do you want me to grab?" hahahaha.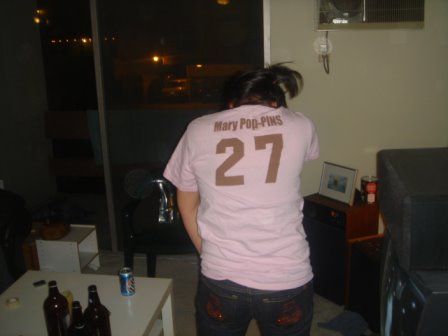 Team Off In The Corner represent! Uh...well 3/4 represented. Beau Ling, Mary Pop-pins, and Fatty McGutterpants. Fellow bowler Capt. Jack Spare-ow missed another team meeting.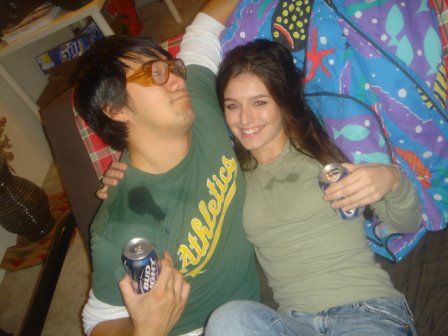 I managed to spill in the same area..Twice. The old spill hadn't even dried yet. However, I'm not the only one that spilled this time..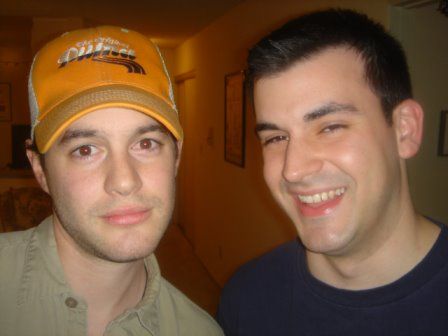 Fonzie thumbs! Heeeeeyyy!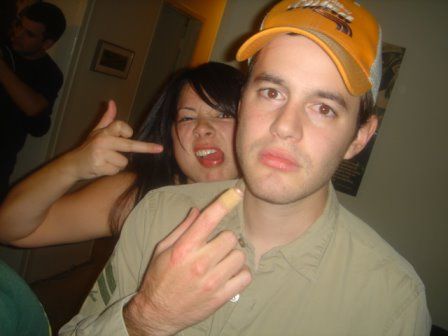 Clay's abused finger. Mary's sympathetic response.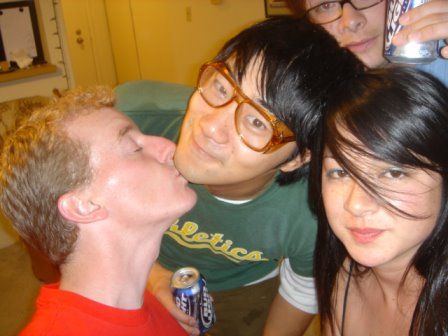 Engineering safety glasses, man kissing, nearly identical hairstyles, Jeff making it into the photo at the last second....all make for an excellent photo opportunity.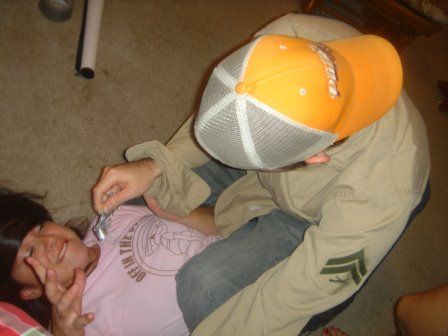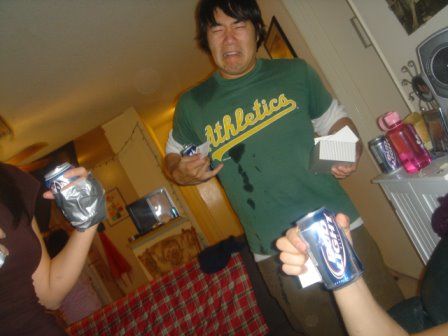 I found all of Kenne's business cards. He's a professional. They have "Development Executive" written on them. I helped him out by distributing his card to everyone. But not before I spilled on myself...again.
Distributing cards. Kenne's gonna get so much business now.
Later that night...way later I think, a crew of us strolled down to Jack In The Box. I wish we had brought a camera because this sight of us walking through the drive through, trying to mimic a car still makes me laugh. The drive through window guy...(operator?), dutifully reminded us to "not forget to bring our car next time", and then punished us further by forgetting to put in the curly fries we had explicitly told him we wanted, fifteen times.
We returned to the house, where we destroyed the food in two seconds. I also finished Mary's sandwich, and I think all the fries that were on the table. Needless to say, I think I need a break from Jack In The Box.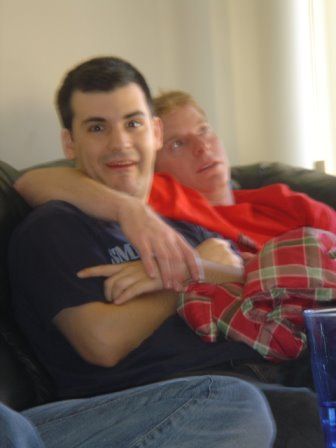 Edward 40 Hands was a lot of fun, hopefully we'll all do it again soon!
Dead tired Sunday night I went bowling to celebrate my friend Theo's new American Citizenship status. Jeff and Marcy got him a good ol' Apple Pie, while I brought American Cheese and Hot Dogs. Brennan showed up with hot dog buns! We didn't even plan for that to happen! Seriously though. Just buns Brennan? At least with hot dogs, you can eat them sans buns. What are you gonna do with just buns?
Congratulations Theo! I know I probably couldn't answer some of the questions on that test, but that's only because I'm an idiot, not for any lack of "American-ness".
Excellent weekend.
Check out Mary's Edward 40 Hands recap.
www.therealmr.blogspot.com
Heather's got one too.
www.htothej.blogspot.com