Monday, November 21, 2005
Edward 40 Hands, and Theo's An American!
Today's weekend recap is a particularly large one, because it is jam packed with photos from Saturday night's fun bonanza...Edward 40 Hands.
Everyone was excited and ready to go immediately, but we had to wait until Kenne got himself a box of fries.
We started the taping right after Kenne got back. Mary's expert taping skills allowed me the confidence in knowing that no matter what I might try to do, the 40's and I were joined together for eternity.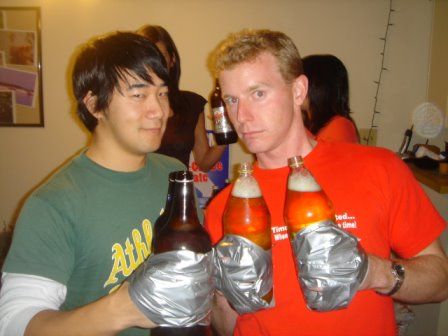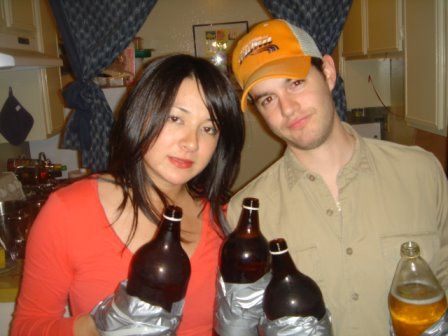 Mary and Clay. Clay rocked two different 40's. It was a taste explosion.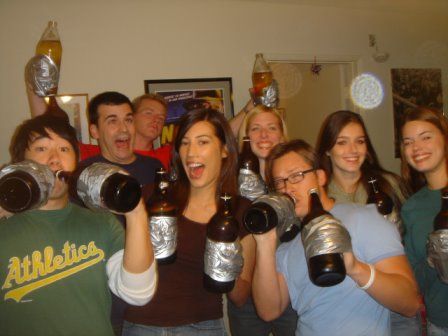 A good strategy for Edward 40 Hands is to drink one as fast as possible so that one hand is semi-usable. You can't be freed from your 40's until you finish both of them, but one semi usable hand is better than two useless hands.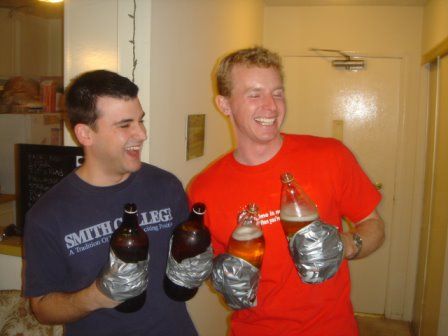 Kenne and Chris
Edward 40 Hand. It's easier to finish one, but harder to get around with two hands taped together.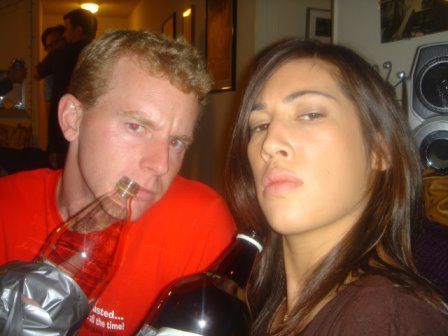 Chris and Heather. Serious drinkers.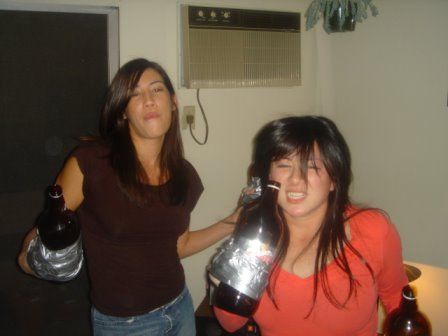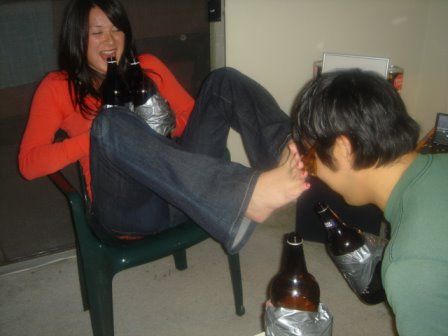 Feeling unsafe, I felt the urgent need to wear safety glasses. Thankfully, Mary was able to place them on for me.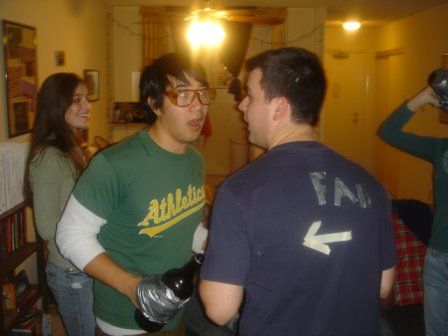 "Whaaaaa?"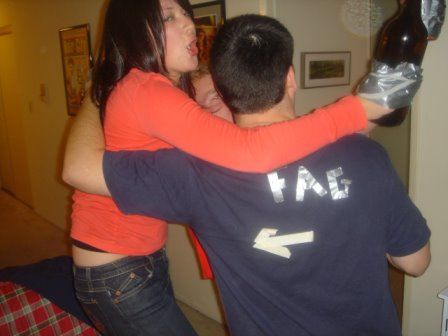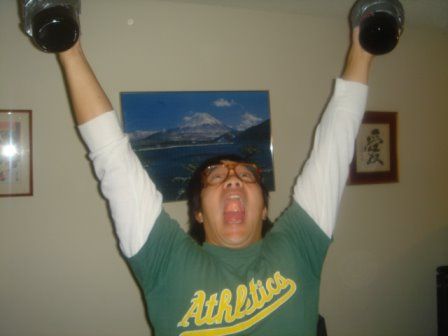 Done. When I got to the halfway point during my last 40, I felt an urge to evacuate my bladder, but I was able to hold on until the end. This also marks the last point during the night, where my shirt didn't have beer spilled on it.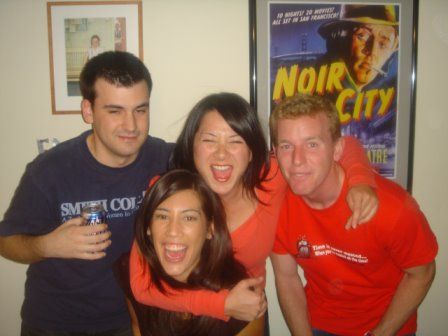 Everyone finished their 40's without incident, which is great because that meant no one peed or puked on themselves. The downside? No one peed or puked on themselves.
The fun continued, as the 40's were just an appetizer before the main course. More beer.
Note the spill on my shoulder. It'll get worse. I don't know why I spill so much, but it's the same thing with food. Especially if I eat spaghetti, and wear a white shirt. Bad idea.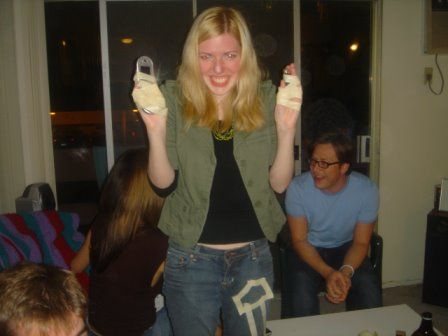 Edward Phone-y Lighter Hands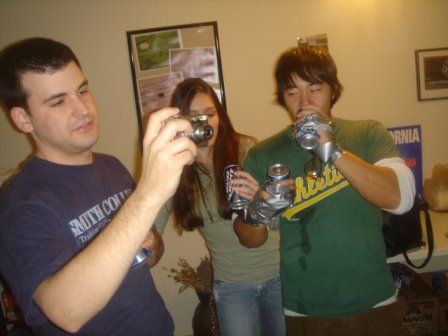 Somehow playing, "Edward 12 Hands" While taped to someone else seemed like an excellent idea.
Later my flat Asian ass lost in the "Awesome Butt Contest"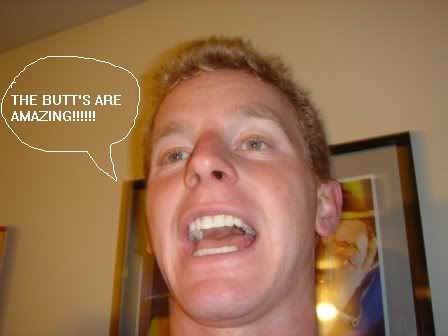 The real winner was Chris, he'd never seen such bodacious butt-ery in his life.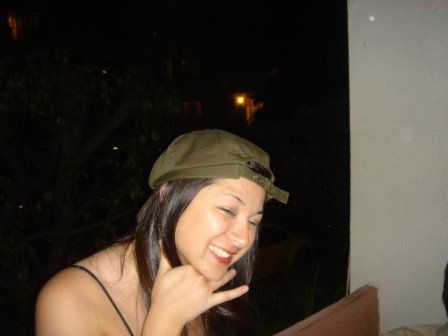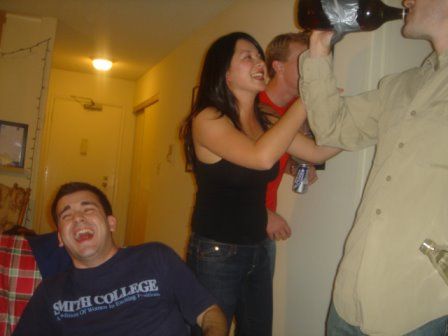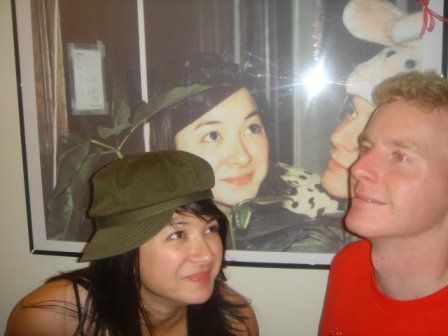 This picture looks familiar....
It was only a matter of time before this happened to someone: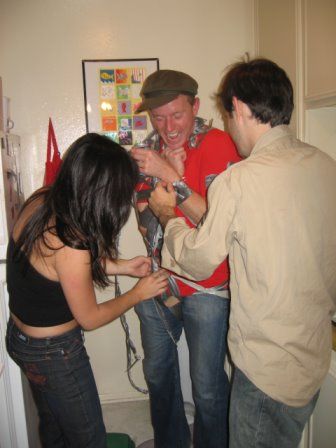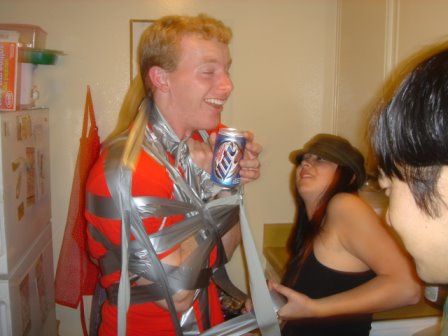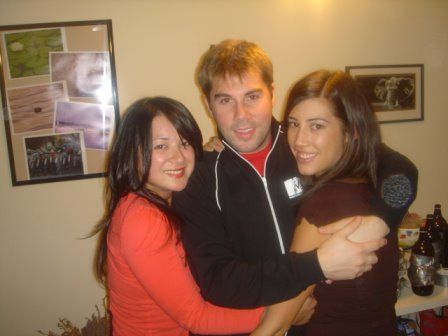 Jason! Thanks for taping and photographing! Your reward? Being the meat in a sexy sandwich.
Earlier in the night Kenne's phone rang but he couldn't answer it because of the 40's, so he kept thrusting in Jason's direction with his hips to try to get him to dig his phone out of his pocket. Jason didn't understand what was going on and backed away from Kenne going "What! What do you want me to grab?" hahahaha.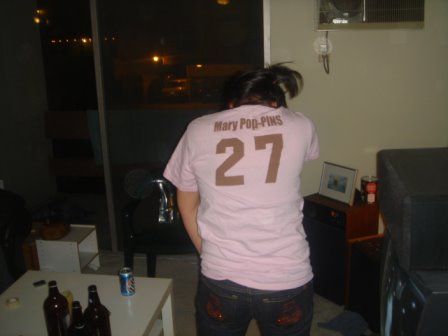 Team Off In The Corner represent! Uh...well 3/4 represented. Beau Ling, Mary Pop-pins, and Fatty McGutterpants. Fellow bowler Capt. Jack Spare-ow missed another team meeting.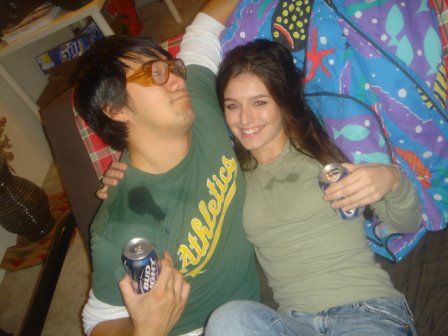 I managed to spill in the same area..Twice. The old spill hadn't even dried yet. However, I'm not the only one that spilled this time..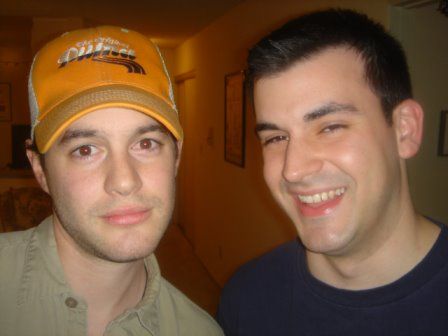 Fonzie thumbs! Heeeeeyyy!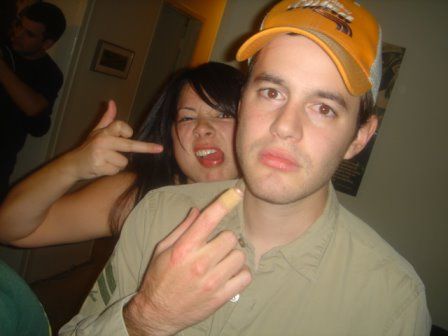 Clay's abused finger. Mary's sympathetic response.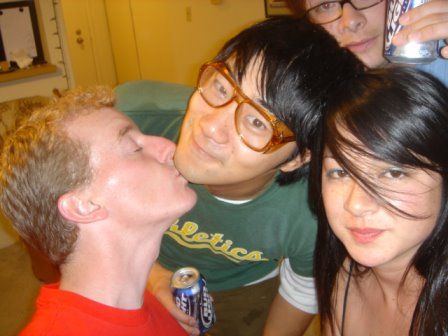 Engineering safety glasses, man kissing, nearly identical hairstyles, Jeff making it into the photo at the last second....all make for an excellent photo opportunity.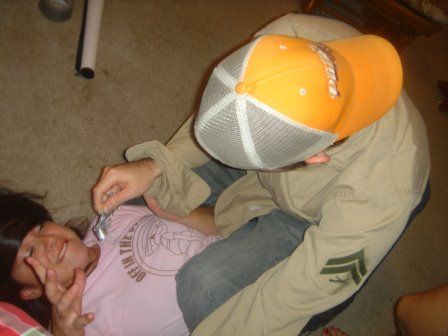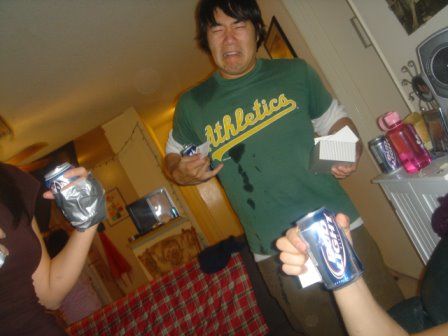 I found all of Kenne's business cards. He's a professional. They have "Development Executive" written on them. I helped him out by distributing his card to everyone. But not before I spilled on myself...again.
Distributing cards. Kenne's gonna get so much business now.
Later that night...way later I think, a crew of us strolled down to Jack In The Box. I wish we had brought a camera because this sight of us walking through the drive through, trying to mimic a car still makes me laugh. The drive through window guy...(operator?), dutifully reminded us to "not forget to bring our car next time", and then punished us further by forgetting to put in the curly fries we had explicitly told him we wanted, fifteen times.
We returned to the house, where we destroyed the food in two seconds. I also finished Mary's sandwich, and I think all the fries that were on the table. Needless to say, I think I need a break from Jack In The Box.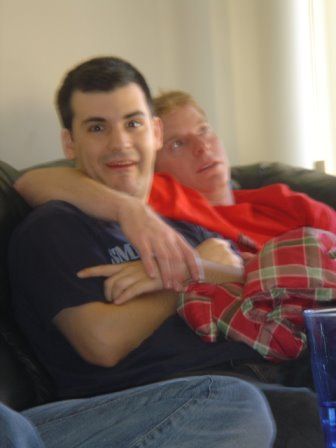 Edward 40 Hands was a lot of fun, hopefully we'll all do it again soon!
Dead tired Sunday night I went bowling to celebrate my friend Theo's new American Citizenship status. Jeff and Marcy got him a good ol' Apple Pie, while I brought American Cheese and Hot Dogs. Brennan showed up with hot dog buns! We didn't even plan for that to happen! Seriously though. Just buns Brennan? At least with hot dogs, you can eat them sans buns. What are you gonna do with just buns?
Congratulations Theo! I know I probably couldn't answer some of the questions on that test, but that's only because I'm an idiot, not for any lack of "American-ness".
Excellent weekend.
Check out Mary's Edward 40 Hands recap.
www.therealmr.blogspot.com
Heather's got one too.
www.htothej.blogspot.com
Comments:
ah sheeet that looks like quite the magical evening. unfortunately it was sans me. let's play 40 hands with mom and dad. oh the mere image in my head is too much to handle. mom's midget hands couldn't hold one 40, let alone one in each hand! oh crap!
Post a Comment
<< Home