Friday, December 30, 2005
Crazy waves and the SF ZOO!!
Over the past couple of days, news programs have been reporting crazy huge waves pounding the coast of San Francisco.
Not wanting to miss the sight of treacherous waves swallowing up wayward beachgoers, Mike and I ditched Dan and Rachel and bolted out of the burger joint and headed off to Pacifica.
Where we saw: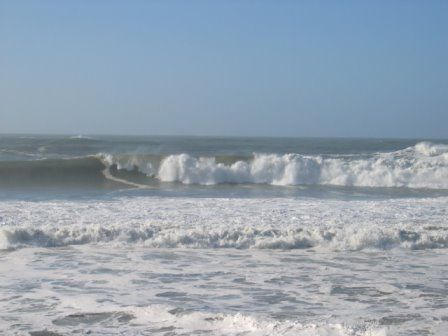 Waves. Kinda big. Not the monsters from a couple days ago.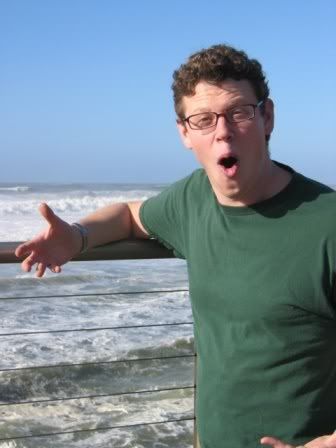 "Holy shit! These are kinda large, not so huge, but still kind of scary waves, not so much scary from here, but I bet if you were out there in a boat it would be kind of scary"
I was hoping to see terrifying waves. Oh well. You suck Poseidon.
On the way to Pacifica, we passed a sign for the San Francisco Zoo. Fuck yeah. The zoo. It's a must visit. So we headed there after the waves.
The SF Zoo is a lot less depressing than I thought. It's really nice actually. I believe the zoo is in the process of updating all the habitats, so there really isn't any cause for complaint from the animals that live there.
The zoo is a great place to see animals in real life instead of on television or in magazines, and it's the perfect place to point at things. Since I love pointing at things, being at the zoo was pretty much the best time of my life.
Here I am pointing to a sign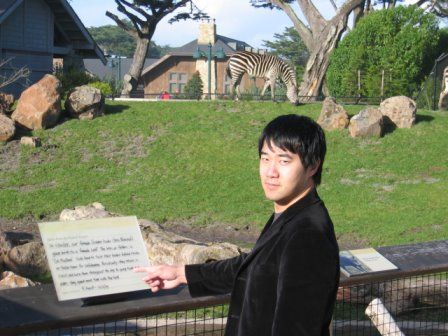 I found a better sign around the corner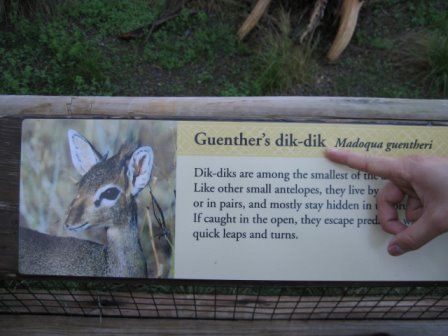 Here I am pointing in the direction of where were going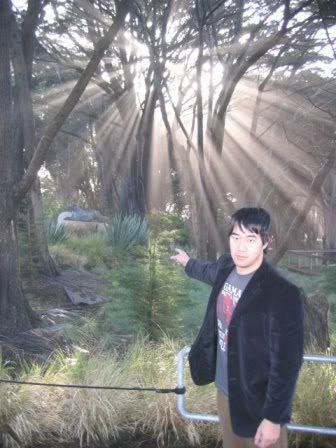 Which happened to be: The Gorilla-tarium
Using the telescope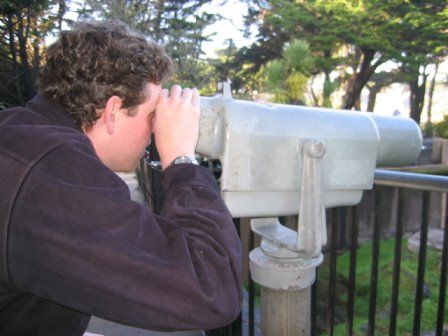 Mike was able to see this: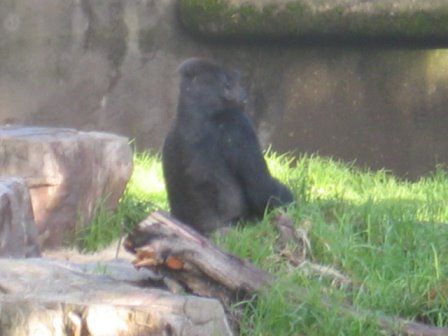 A fuzzy image of a gorilla's back. It cost 25 cents to see that view. Rip. Off.
Walking around the Gorilla-tarium provided a better view:
There was also a Gorilla learning station, where the scientific name of the Gorilla was revealed: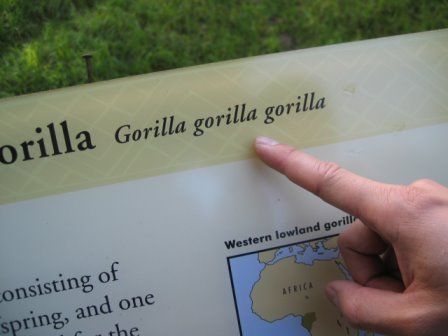 Gorilla Gorilla Gorilla. Clever.
Moving on, I pointed at a lot of other animals like:
A Mandril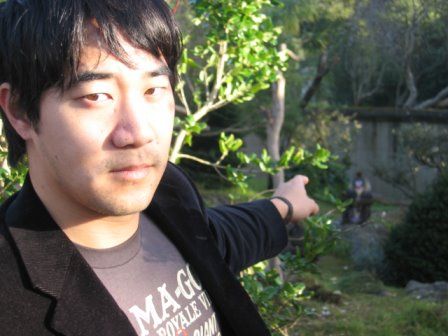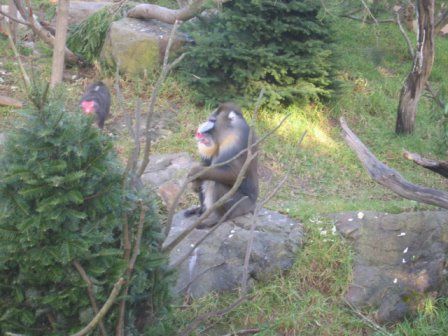 Some Penguins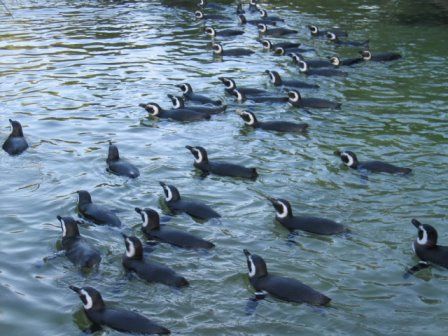 and a Polar Bear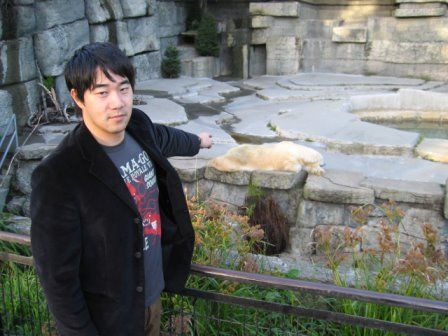 I also quietly pointed at some sleeping Lions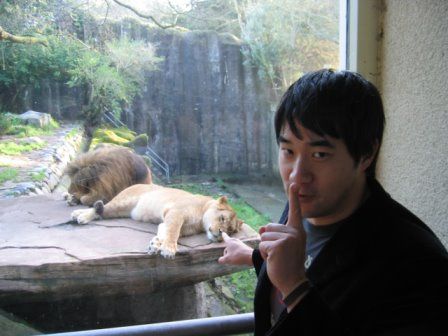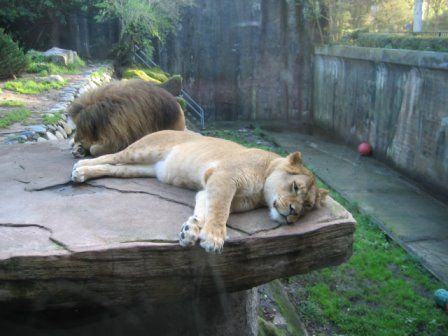 And a free roaming Peacock
Here's a closer look
Mike pointed at a Rhino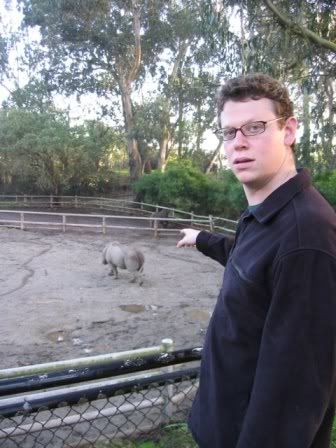 And then took a picture of this gem
What cage did this guy bust out of, and where are the rest of his shorts?
I also pointed at another sign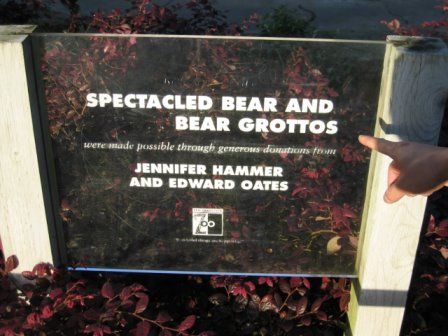 What happens in the bear grotto, stays in the bear grotto. Hahahahahahaha! My humor is unBEARable. hahahaha.
The zoo was great. I suggest you all visit one sometime.
New Year's is coming up. I'll have pics to post after because....I get a new camera today!
Have a good day.
SF Tuesday Night
Went to Lee and Renee's on Tuesday night. They live in San Francisco in a really nice apartment. Up until that night, staying at my parent's house has been pretty boring. So needless to say, a night out in SF was met by much excitement from me.
We went to a bar near the apartment. Lee wasn't able to come out because he's a big time lawyer, and midweek boozing isn't conducive to good lawyering.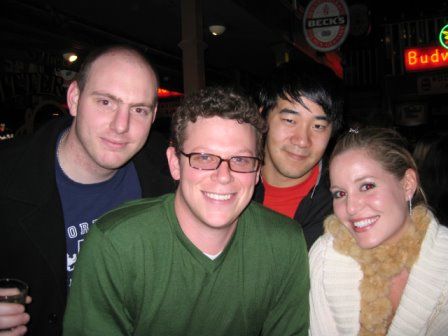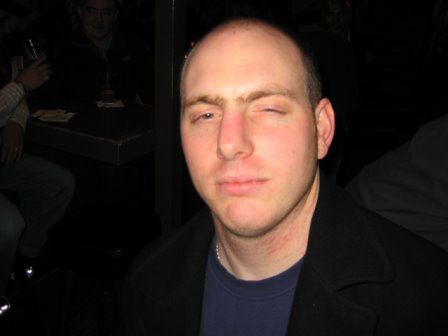 Ed's stock pose.
Flash forward to the diner we ate at:
Same pose. He's good.
How about another:
Wow! Picture Kryptonite hits Mike and Renee:
Throw me in there, and it becomes some sort of Super Picture Kryptonite: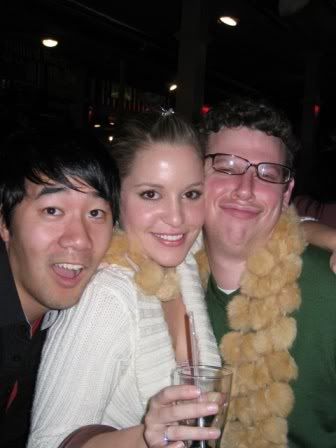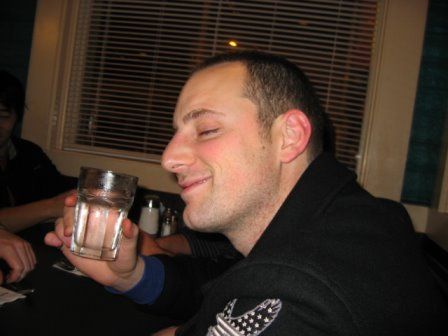 After the bar we went to some diner for food. I didn't finish my Bacon Cheeseburger Artery Destroyer, which was a good thing because the next morning, I had another Bacon Cheeseburger at lunch with my friends Dan and Rachel who work in the city.
I'm sad that I have no pics of the burger, or of Rachel and Dan...but mostly the burger.
Thursday, December 29, 2005
Merry Late Christmas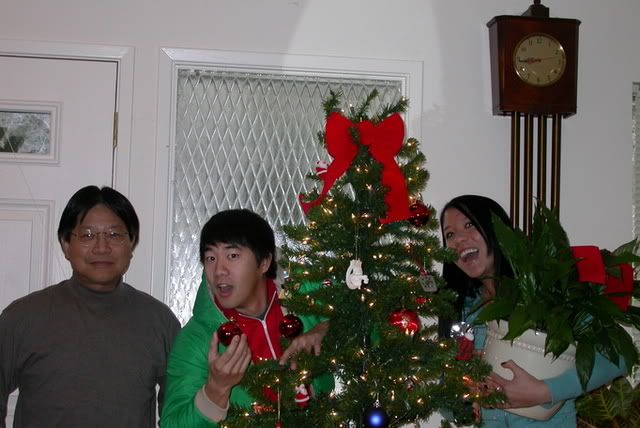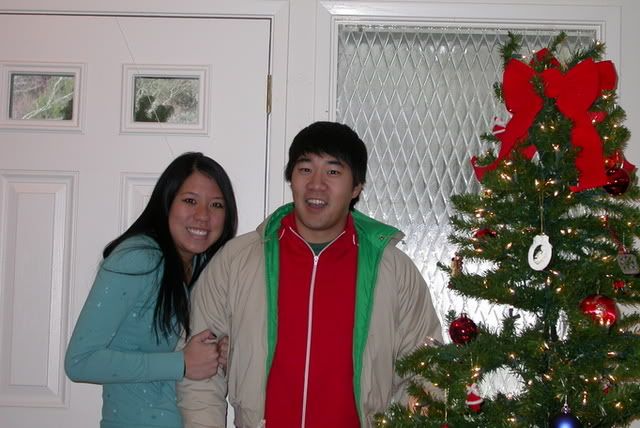 Hope everyone had a great holiday weekend.
Thursday, December 22, 2005
The End Is Near..Nigh? Close?
As I sit here in my cubicle, amidst a sea of boxes and scattered paper I'm left with a very difficult decision. What should I take home with me?
I've got scripts upon scripts I could take home, but I've read them all and really once I've read a script...well you know..it's been read. By me. So there's no real point in keeping it.
Should I take home my awesome "Panda Bear On Fire" drawing?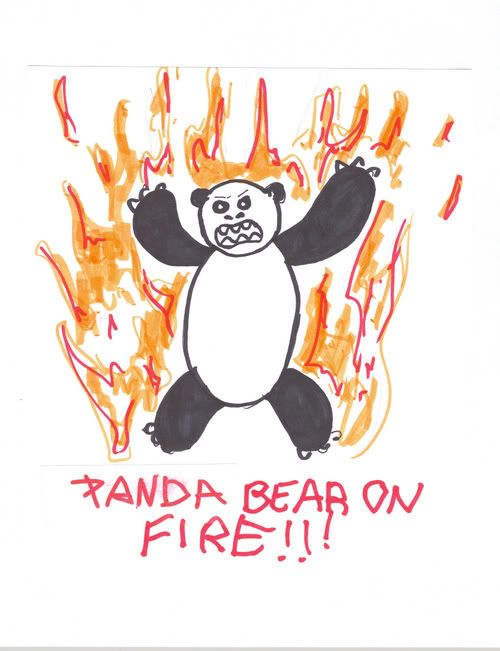 Or maybe my generic football poster?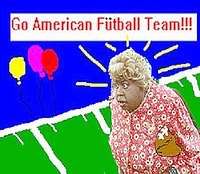 I've got a Mr. Potato Head, but I think I'll leave that for the next person that is going to occupy this workspace.
I have a Kill Bill lighter I'm going to take because it was a rad gift. I'll probably also take an old vhs tape called "The Vortex: A Trilogy" which is a film some guy made that was the most awful thing I've ever seen in my life. I only have part one. I shudder to think that there might possibly be two more sequels to "The Vortex" that exist in this world.
Oh, I'm totally going to take what's left of my Office Duster. That thing is so rad. Did you know that the Office Duster can freeze water? Well, not a lot, but if you have some water left in a cup, and you stick the Office Duster straw in it and pull the trigger for a while. It freezes the water! Ok yeah, no one else was really amused when I ran around demonstrating it to people in the office. One guy had to totally harsh my mellow, by describing the science behind it. Look buddy. It's magic for all I'm concerened. Just let me run around like an idiot while I show people.
I don't know. I guess I'll just fill the box with whatever fits. Oh yeah I didn't mention that I get one of
those
boxes. You know the kind. Not too big, brown with the handles on the side. The box is in every movie where someone gets fired or laid off. It's like:
"Oh did you hear? Frank got laid off"
"What? No! He's been here for so long"
"Yeah I know-SHHH here he comes"
And then Frank comes around the corner, all his belongings reduced to whatever he can fit in the box. Maybe there's a fern sticking out, and some pictures of family.
Yeah, I've got one of those boxes.
Monday, December 19, 2005
Photo Diarrhea
Still don't have a digital camera. Soon...Soon I will get one..
I had to use one of those one time use cameras. It's like I was magically transported back to 1996..
My friend threw a party at his house over the weekend which was a lot of fun. He went overboard with the amount of alcohol he bought, and he hired bartenders which was a nice touch.
The disposable camera only had the ability to take a couple photos and unfortunately I had used up all the pictures way too early during the party.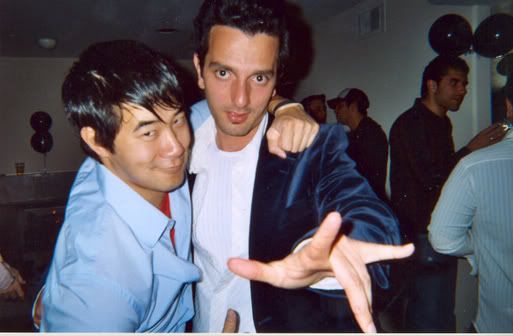 My friend Pouria. He was selling the house so it seemed like the perfect time to throw a party.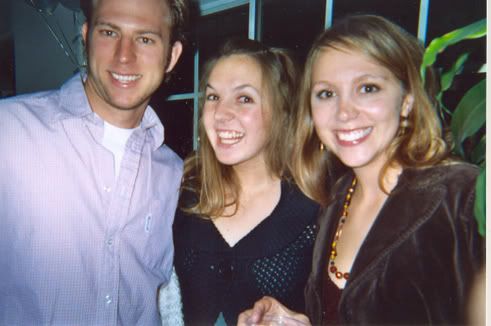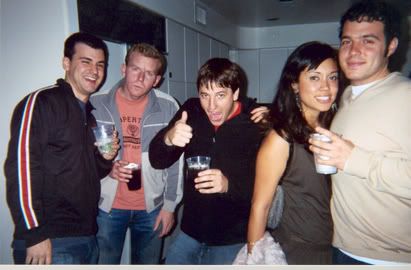 One of the bartenders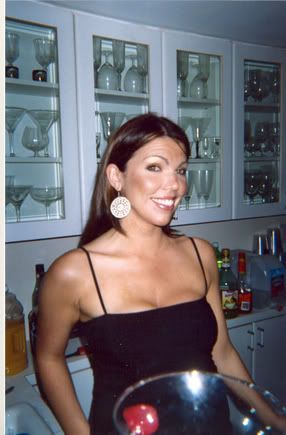 Dave's face: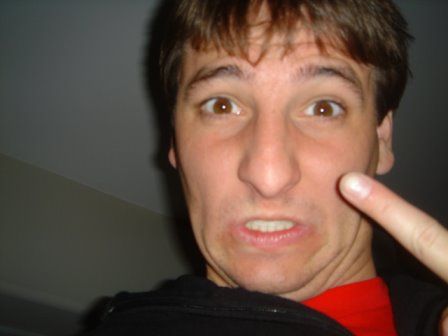 Montage of Dave's faces over the course of the night: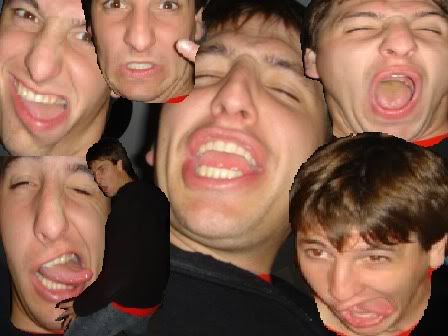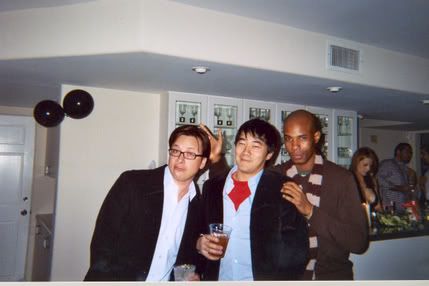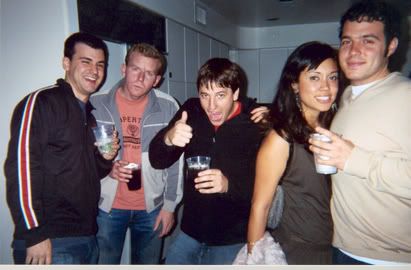 Hoping to lessen the effect "Picture Kryptonite", Brennan and I struck this beauty of a pose, which may or may not have made the picture even worse..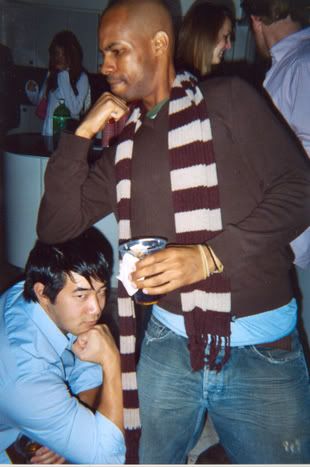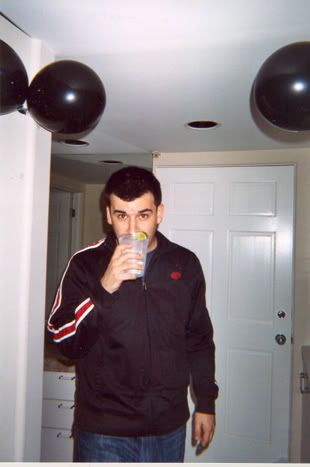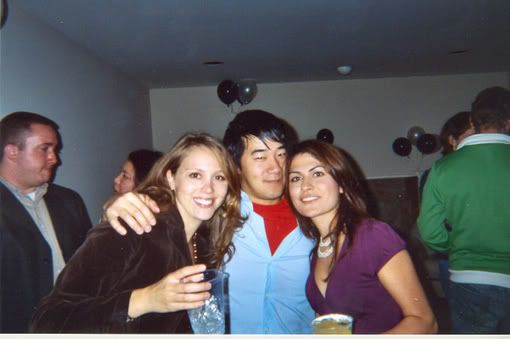 We left the party and then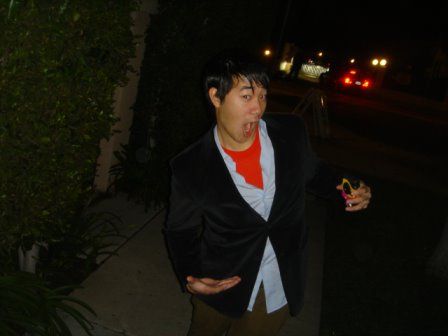 Drove to McDonalds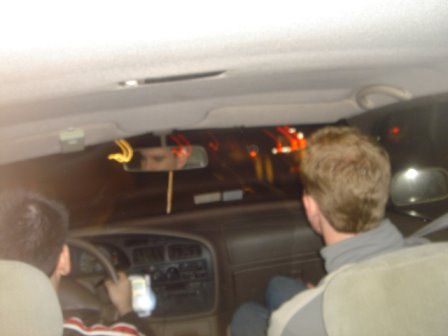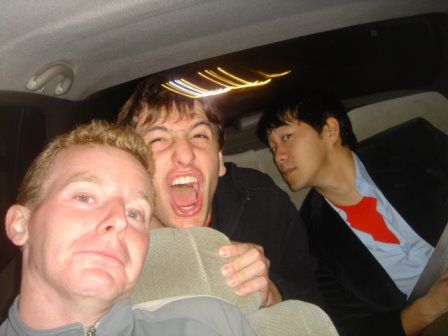 Where I turned off the McDonald's sign. Hahaha! All the customer's will think McDonald's is closed! I'm fucking genius!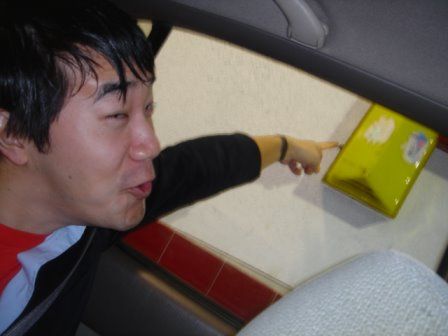 Dave couldn't afford McDonald's sadly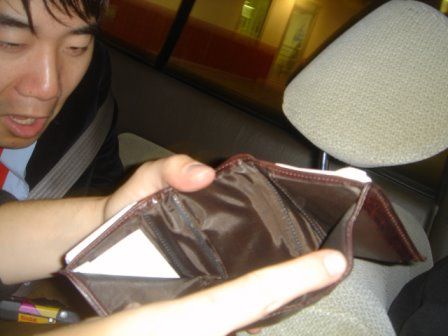 Because he spent it all on this sex truck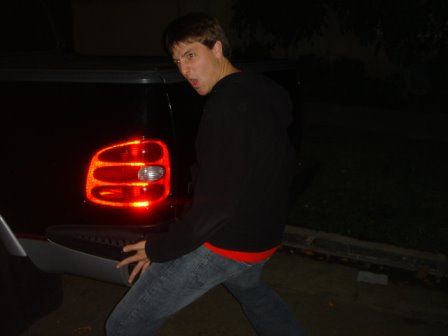 MMMM!
Continuing this photo update. I found some random pics on my computer as I was trying to free up some space...
Here's a pic of me right after knee surgery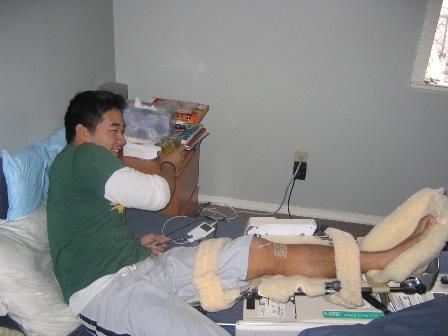 The machine I'm strapped into is called a CPM machine. Which stands for "Continual Passive Motion". I was on the thing for eight hours a day for two weeks as it flexed my knee constantly. The goal was to regain as much motion and flexibility before I started physical therapy.
This is how my knee looked after two weeks post op.
Too bad I couldn't find the pic I took of the knee the day after surgery. It looked pretty gross. It was swollen, and bruised up. The recovery time from the surgery was amazingly quick considering the fact that they attached a dead person's ligament in my knee. Gross, yet totally awesome. I have a dead guy's body part in my leg.
Here are some pics from my friend's engagement party up in SF. They live in a really nice area, by Golden Gate Park. Bastards.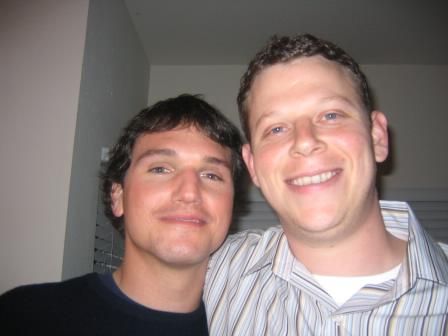 Posing by my gift!
Yeah, you can like...um put stuff in it..or something. Ok fine it sucks. Happy Engagement! Or whatever it is people normally say during these things.
Drunken Lorakeets from my trip to Australia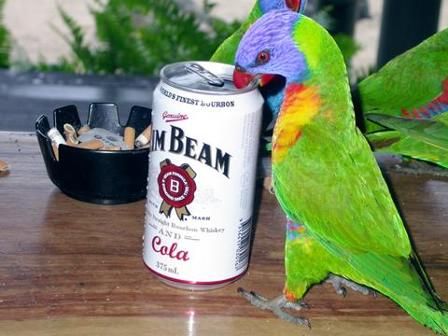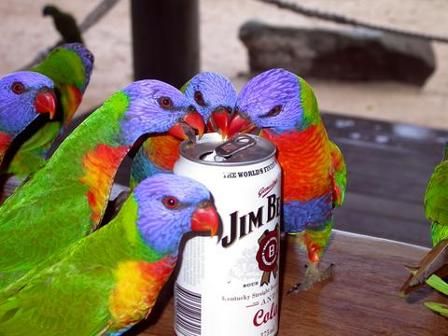 And last but not least. A pic from my friend Theo's recent "Citizenship Bowling" night, where we celebrated his first night as an American Citizen. Theo's on the left.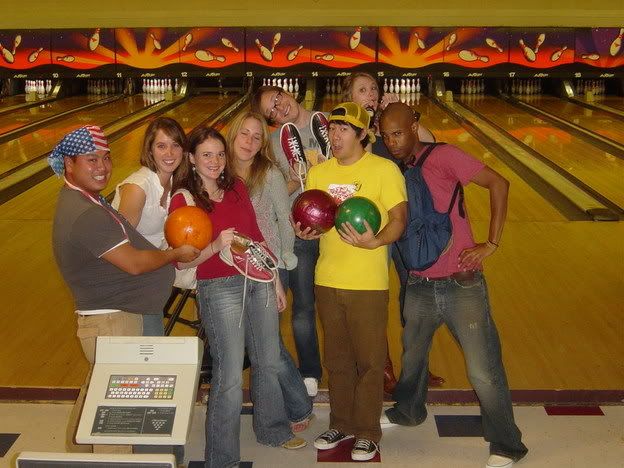 That's all folks!