Friday, March 10, 2006
So much drama in the LBC....
I'm off to Japan this morning. Hopefully I can update while I'm abroad.
Last Thursday I went down to Long Beach with Jeff and Mike to visit our friend Phil. Phil lives right next to the raceway for the upcoming Long Beach Grand Prix, where cars race along the city streets.
We poached the course for a couple turns.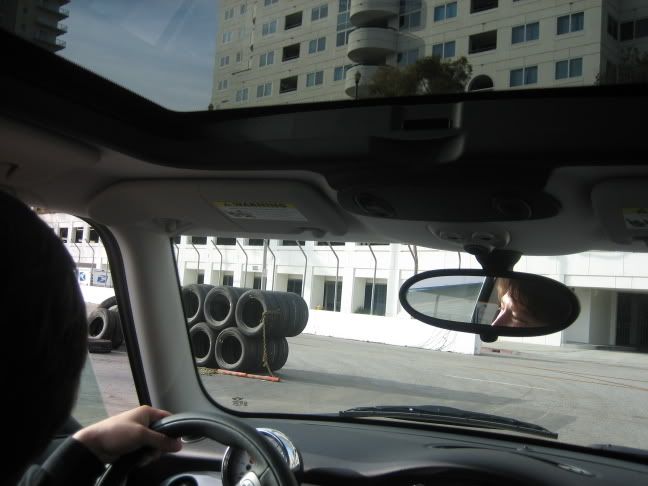 The course looks awesome, and it will be cool to see the pros rip it up. I think it's April 9th or something.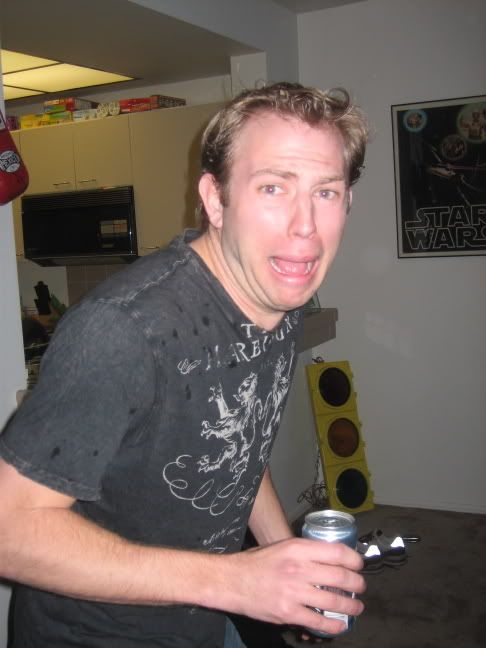 Mike warming things up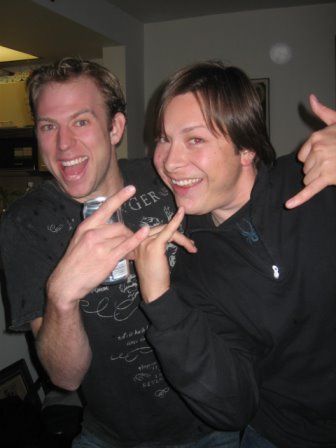 Mike and Jeff perfecting their Bill and Ted impressions
Abe was pleased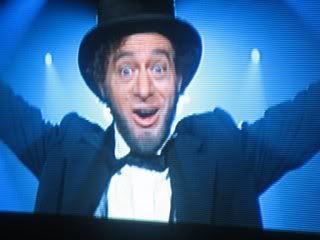 Party On Dudes! He says.
Phil has a little dog named Sammy that is the most rotten thing born of this world. How can a thing so small be filled with so much hatred? It does nothing but snarl at you, and try to bite your fingers. First he will try to fool you and get you to pet him, but then when you do, the fucker tries to bite you.
Here I am trying to handle Sammy, to teach him some respect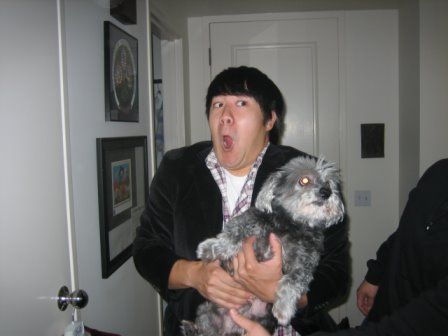 Phil saw me mandhandling his dog, so he taught me some respect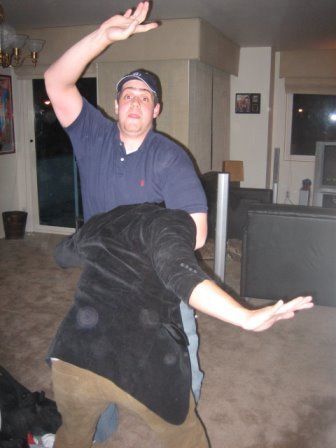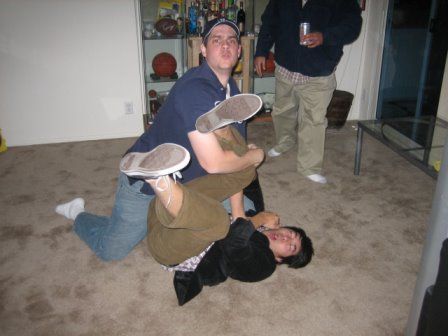 Fuck you Sammy.
We went out for some karaoke where I did "Wanted Dead Or Alive"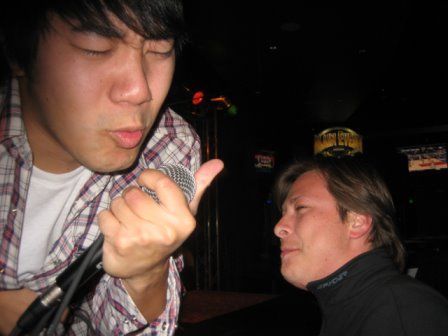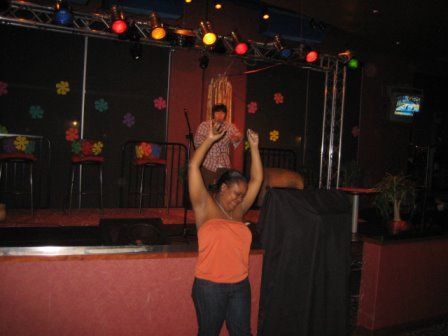 In the middle of my blistering set, I kept yelling "Girl look at yo titties!" to the woman in the orange shirt dancing in front of the stage.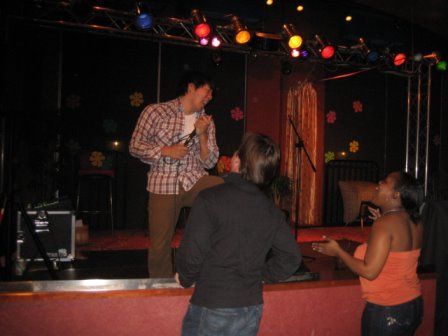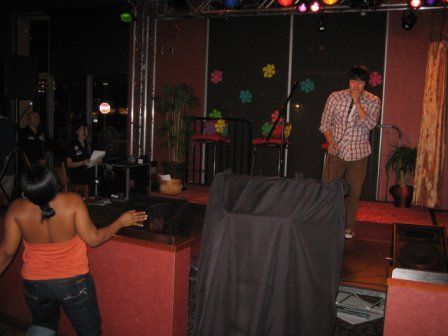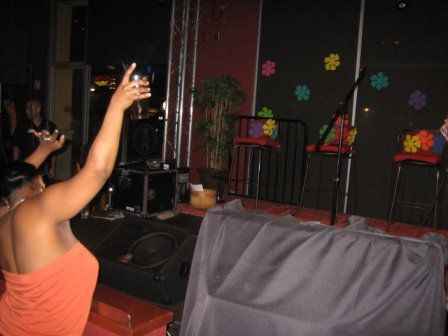 I'm surprised that I don't have a big palm shaped mark on the side of my face. Apparently people thought it was funny. I vaguely remember yelling it out. I'm adorable.
Mike sitting patiently for his turn
Mike got up next and brought the house down with "You've Lost That Loving Feeling" and an equally awesome version of "Hero" by the mole himself Enrique Iglesias.
This lady kept busting up Mike's set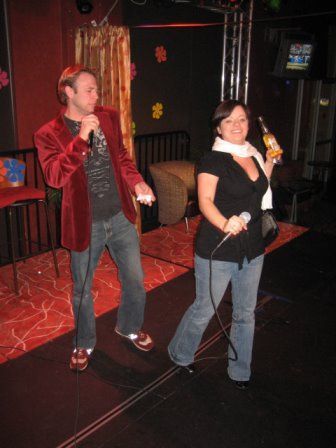 Finally grabbing the mic at one point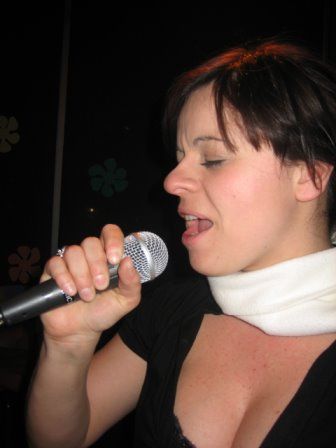 Here is her boyfriend as he collected his drunk lady off the stage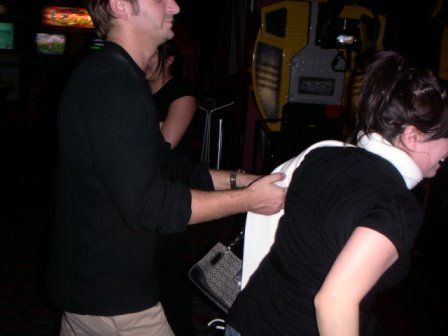 All this went on as I cold kicked it at the foot of the stage
Mike karaoked so well, that women were throwing panties on stage. Well, not real panties but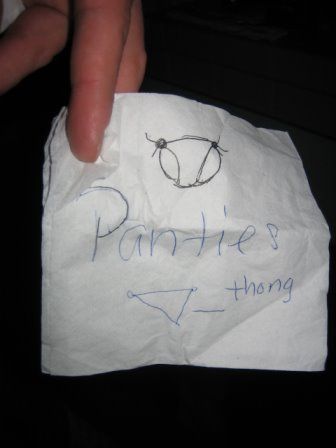 Graphic representations of panties. I laughed so hard when I saw this happening. Judging by the looks of the riff raff that were in attendance, I don't think Mike would have wanted real panties.
Mike with all his panties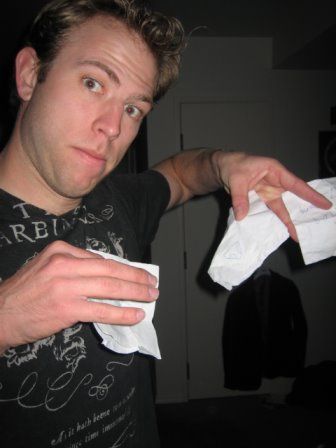 The people that run the karaoke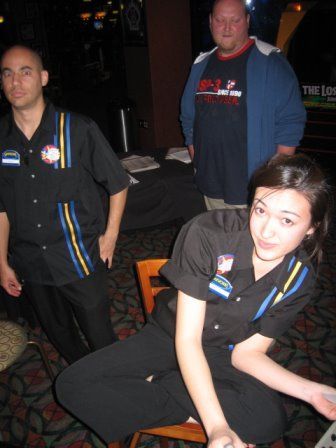 As we left the bar, Mike cheesily blew the girl above a kiss, and she just stared at him for a moment, then reached out and "caught" the kiss with her hand all slow like, deadpan the whole time. The kind of look you give when you find out you're being audited. It was then Mike knew just how relevant his decision to sing "You've Lost That Loving Feeling" was that night.
After karaoke we went to some Irish pub that's pretty fun. Some frat boy douchebag made a sarcastic remark about Mike's jacket, while trying to look all cool in front of his sorority dates. I don't remember what Mike said in response, but I do remember that it was awesome enough for me to want to high five him and go "Face" in front of the frat boy douche, but I didn't.
***I found out what Mike said, it was: "Thanks, your shirt makes you look like a shithead!". haha rad, after that I gave him the high five I should have given him at the bar, although there was no one around to yell "Face!" to."***
After that bar the night just went further and further into madness, but those are all the exciting pics I have.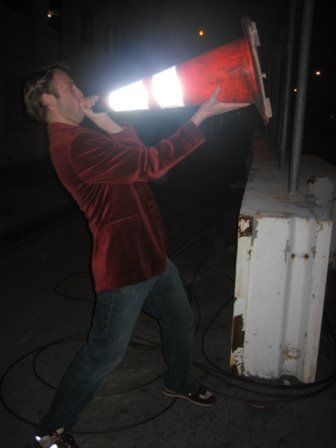 The end of the night. Mike and Jeff say "Find me some place to pass out!"