Tuesday, April 04, 2006
Chiba/Tokyo! Crazy wind, and crotchless body stockings.
After taking the three hour train ride from Kyoto to Tokyo station, I stopped by a pay phone to call Mary's brother TJ. I was excited because I was confident that I could use the phone, after learning how to do so at Kyoto station a couple days ago.
No one answered so I left a message. Since the outgoing message was a lady's voice saying something in Japanese, my message sounded pretty awkward:
"uhhh...hello? Yeah, uhhh this is Eric-I don't know if this is the right number, but uhhhhh yeah I'm at Tokyo Station...and...hmm man if this isn't TJ then you probably have no idea what I'm talking about sooo...." Then I hung up.
From Tokyo Station I had to board a train to Chiba which was a short distance away. Using the directions TJ emailed me earlier in the week, I was able to successfully make it to Shin Urayasu station where I would meet him at his work. I made another call once I exited the train, and thankfully TJ answered the phone, saving me from leaving another awkward message.
We met at the front of the station and from there, walked towards his work.
TJ works at Geos, teaching English. I met some of his students, and two teachers that work there Matt and Celia. By the time I got there, it was quitting time, so TJ, Matt, Celia and I left for the grocery store to get some things for TJ's get together later that night.
The supermarket was just like any other supermarket except for the awesome hotdog animals.
Elephant
Seals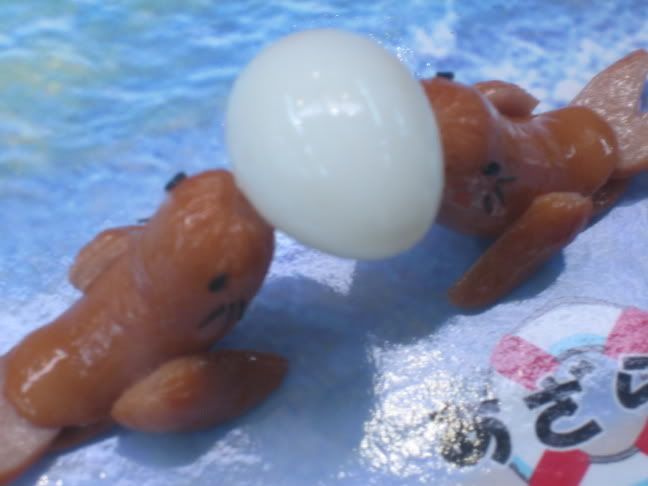 I don't know why I got so excited about these hot dog animals. They were so detailed!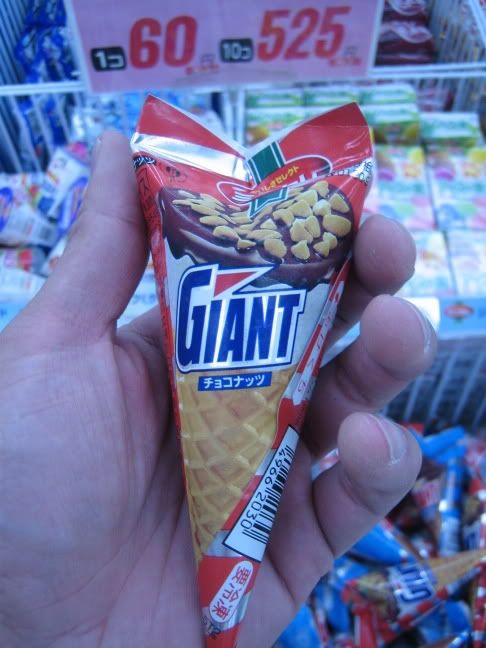 Yes. Totally huge.
Heading back to TJ's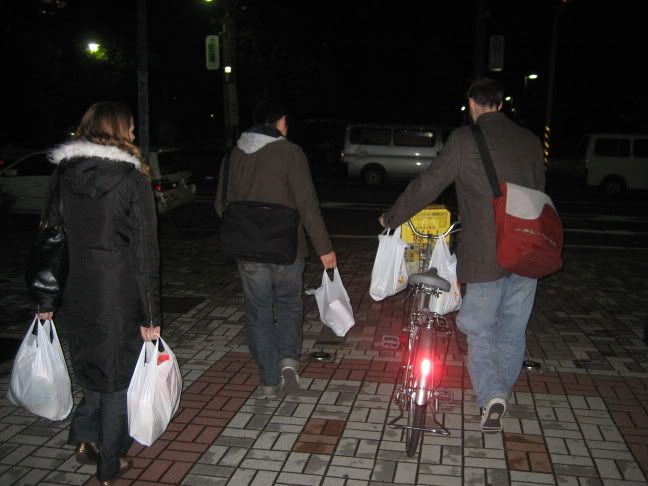 TJ and Wendy. Geos respresent!
TJ was hosting a feast at his apartment, and a bunch of Geos people showed up. It was great. I was pretty hungry by the time I got off the train so this was an excellent night. I got to meet some really cool people, namely a guy named Satoru. He's one of those guys that has been everywhere and done everything. Recently he gave Wendy a really funny gift.
One size fits...most.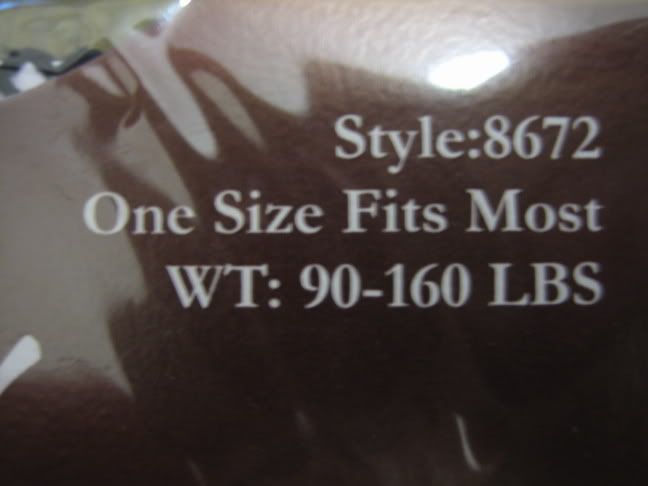 Here's TJ and some dude that kinda looks like me getting ready to rob some banks
So by this time during the night everyone had been drinking a bunch, and then TJ threw down the gauntlet.
"Rock Paper Scissors! Loser has to wear the crotchless body stocking!"
The thing is...when challenges of this nature are proposed, where the loser has to do something really embarrassing, Murphy's Law dictates that the person that sets forth the challenge will most likely end up being embarrassed.
"Best two out of three"
I promised TJ that I wouldn't post the pics that followed...so..here is a shot of me laughing during the whole thing.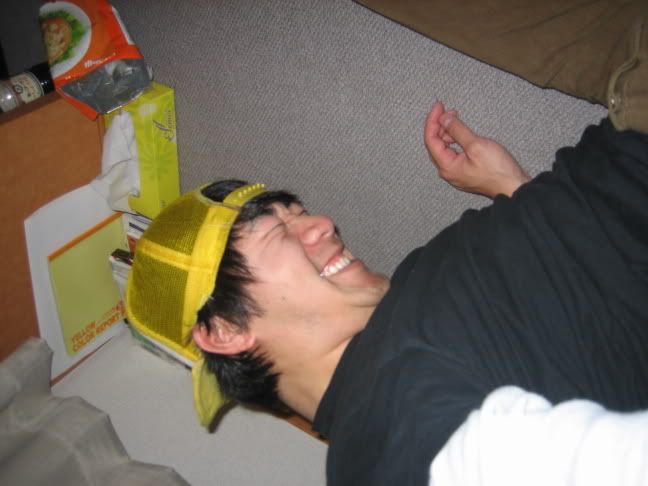 It was a fun night, and I was glad that I made it from Kyoto in time.
The next night, TJ and I headed to Shibuya to meet his cousin Amanda who was visiting Tokyo on business. We were a bit concerned that the trains would stop running because of strong wind. It was windy all day, and it got stronger and stronger as the day went on.
On the way to the train station we saw just how strong the wind was.
This was a bike parking lot, and the wind had knocked all the bikes over, including the bike stands.
This planter was ripped apart by the wind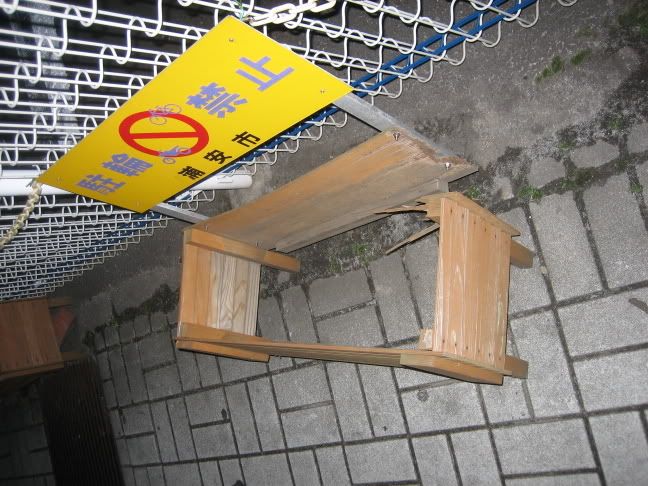 The contents of the planter flew here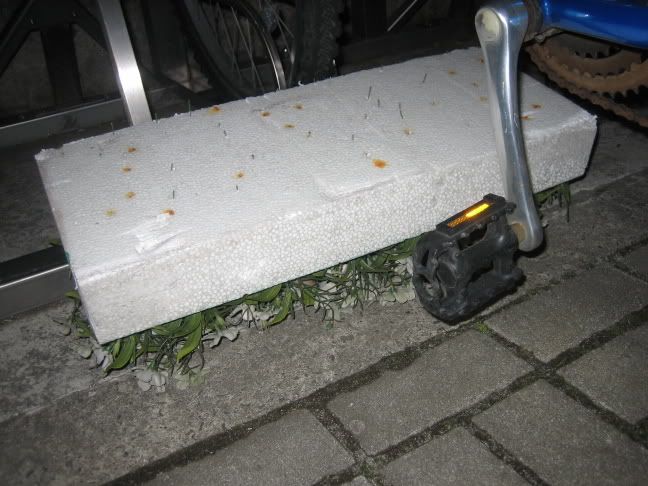 A distance of about ten feet or so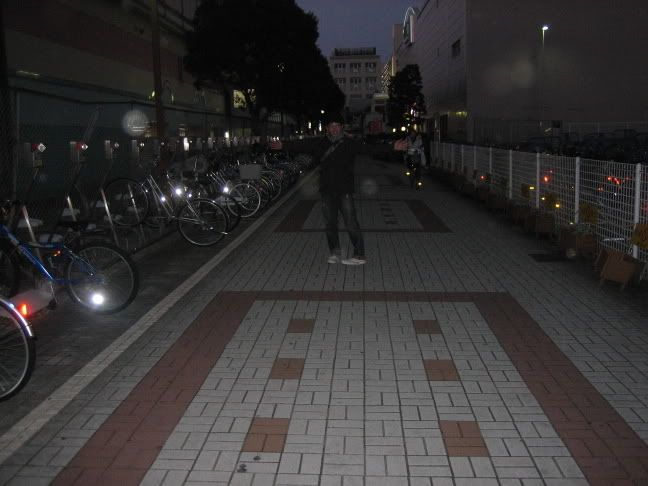 Crazy.
Throwing caution to the...wind (hahahahahahaha) we got on the train, hoping it wouldn't be forced to stop halfway.
Thankfully the train made it without major problems. It did stop for a little while though.
Shibuya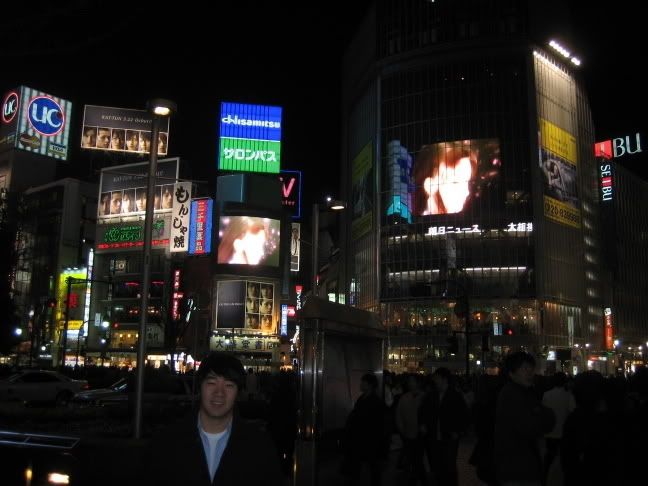 The lobby of Amanda's swanky hotel
TJ and Amanda. We were waiting to get into a restaurant. Check out the tiny beers! They had these in a bucket by the door for those waiting to get in. That was nice of them.
After dinner we went to a bar where I saw this. I saw this barcode on a number of things while in Japan, but didn't know what it was for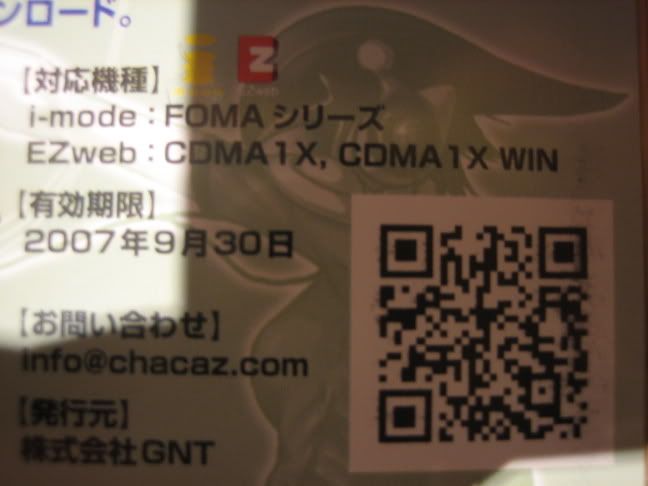 I learned that it was a barcode that Japanese cell phones can read. In Japan, you can use your cell phone to buy items at vending machines, pay train fare etc. Upon learning this, I immediately grew angry at the state of cell phone technology here in the States. The cell phones in Japan get tv reception. Multiple channels! They have actual megapixel cameras on their phones. The "high tech" Motorola Razr that we have here only has a VGA camera. This technology is found on their low price phones too. Dammit. We can send a guy to the moon, we should be able to get our cell phones on par with the rest of the world.
"Cell phones blah blah blah"
"Ah never mind"
Ok that's all the photos I have uploaded for today.
Next up: Udon noodles, karaoke, Fish Market...
Have a good day.
Comments:
I cant believe you caught me pleading for best 2 out of 3. Oh the memories.
Thank you for not posting too many pictures.
It's still windy.
Post a Comment
<< Home