Monday, April 10, 2006
Roppongi and Udon Noodles!
I went back to Shibuya during the day with one goal in mind. More conveyorbelt sushi. We had passed it the night before on the way to dinner, and I was determined to find it the next day. Locating the place was a much different story during the day. It was impossible to find. I walked up and down the streets of Shibuya, hoping that each corner I turned would lead me to the right place.
Thankfully I knew how to say conveyor belt sushi in Japanese and I walked up to random people asking if they knew where it was. After two hours, I found it. Two straight hours walking around aimlessly looking for the place. I can't believe I was that dedicated. No, wait. I can believe it.
When I finally sat down to eat, I immediately blacked out. I became a machine...perhaps from the future where sushi is scarce due to overfishing, whose only mission was to consume as much sushi as possible. When I finally snapped back into consciousness, I had eaten everything in the place, a couple of chopsticks, and the left half of some dude's face. Conveyor belt sushi rocks!
I went back to TJ's and watched some tv. I watched a game show, but didn't really know what was going on. All I know is that these were the hosts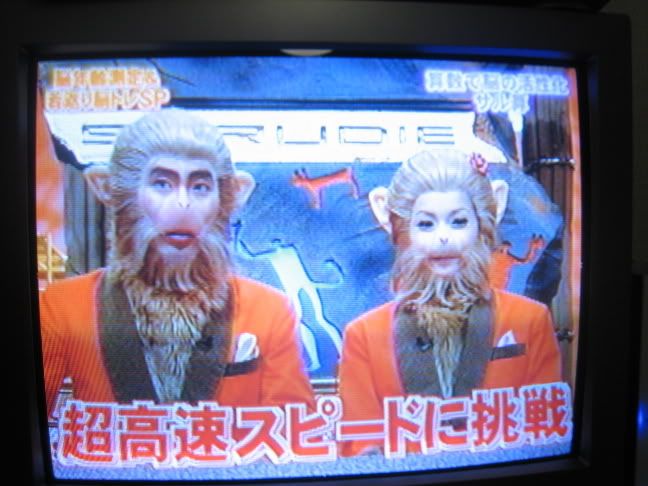 And that it featured
A Japanese Ally McBeal, amongst other contenstants
And multiplication
Later that night, feeling confident in my subway navigational know how, I took the subway to Roppongi
Roppongi Hills Shopping Center
to meet
Matt and Wendy for Udon noodles.
Check out the size of that bowl! You can wash a baby in that thing!
Up next..Harajuku, Meiji Shrine