Wednesday, April 12, 2006
Tsukiji Fish Market
5:30....AM...ugghhh
Waking up at 5am to get to the train station wasn't so bad actually. I was surprised that I didn't see more people up that early. I half expected the train station to be more crowded.
Tsukiji Fish Market is one of the largest fish markets in the world. More than 2000 tons of seafood products roll through the market every morning. It has practically everything the ocean produces for sale. Delicious items that I wanted to eat right there, as well as things from the deep dark sea that I care never to see again. Weird horned things that can only have come from the stygian depths of hell which have continued to haunt my dreams to this day.
There is an auction held every morning at 5am, where people come in to bid on fish. Millions of dollars change hands here every morning. It's crazy! Bidding is closed to the general public however. It used to be open to tourists and the like, but that ended a little while ago after tourists kept fucking everything up.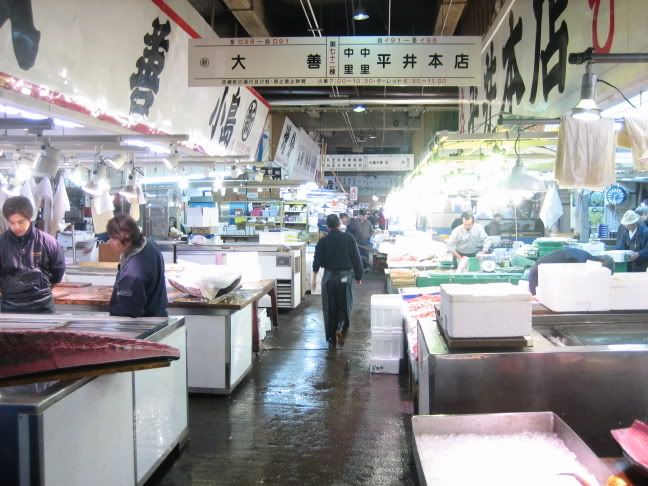 Navigating through the fish market was an experience. The pathways are very narrow, and packed with people buying and selling fish. Carts, motorcycles, and forklifts zoom around everywhere at breakneck speed. Everyone there was working so hard, hauling fish, delivering fish etc. I could sense that they hated every tourist there. I mean, I would if I worked there. Imagine working at this place. Everything moves so quickly, you're trying to navigate through to make a delivery, and some jackass tourist is in the middle of your way, mouth agape just standing there head buried in their Frommer's Guide.
Look at how pissed this guy is
I took this picture a second after some guy just walked into the middle of the pathway to take a picture of something. The backup you see happened within milliseconds. Insane.
I'm sure that worker wanted to punch that person in the face for making him late, and then shove my camera up my ass for taking a picture of how mad he was.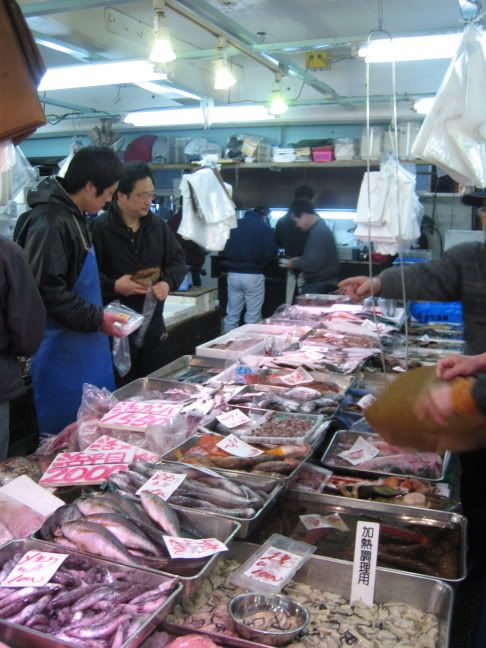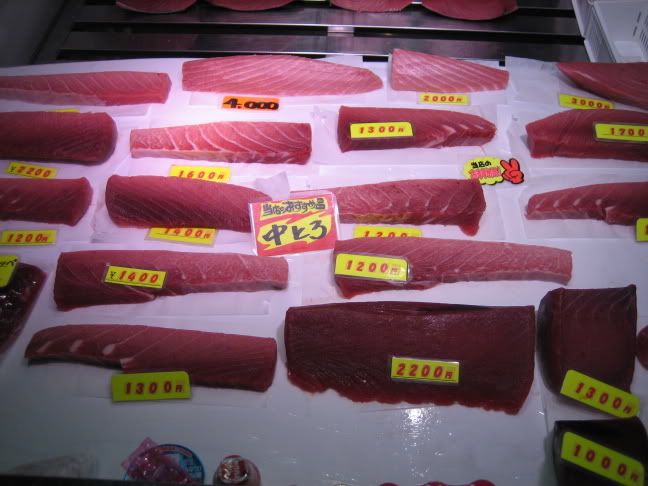 Tuna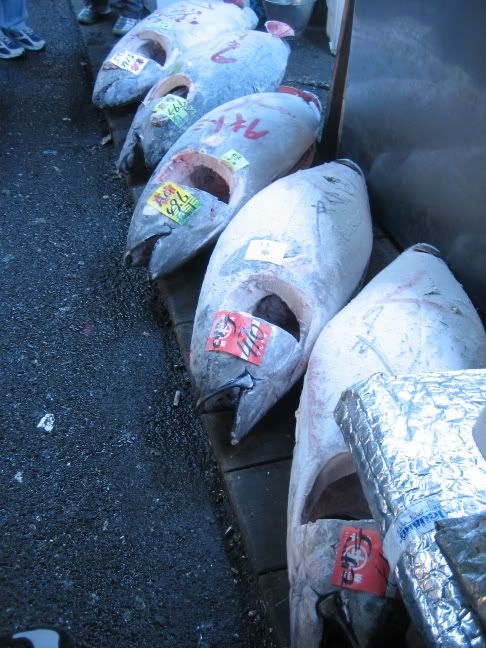 Tuna fetches high prices at the market. I never knew tuna could be that big. These weren't even the largest ones there!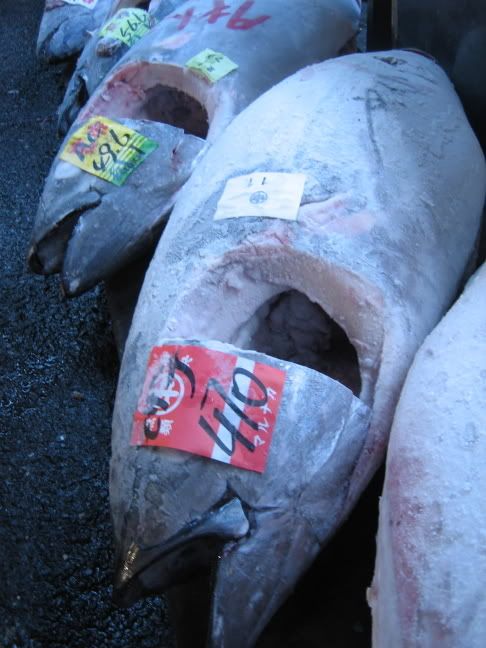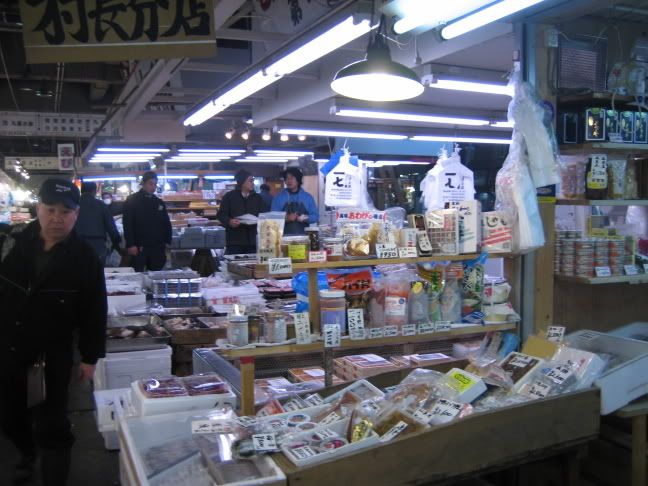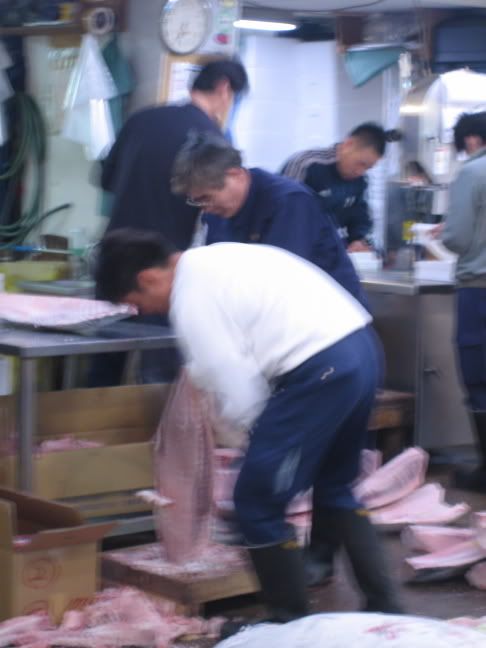 Look at all this tuna!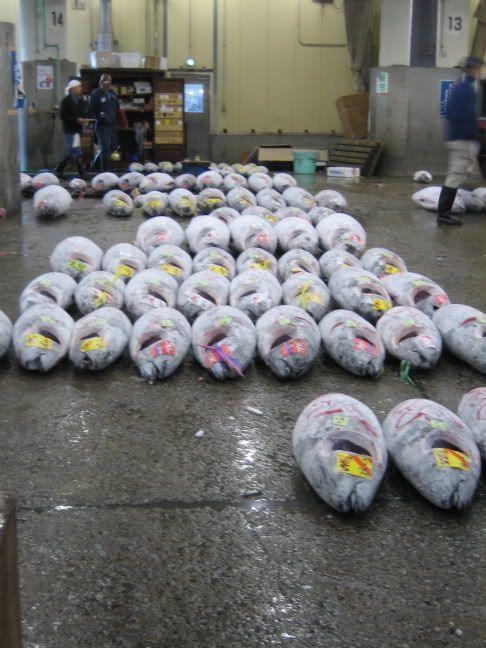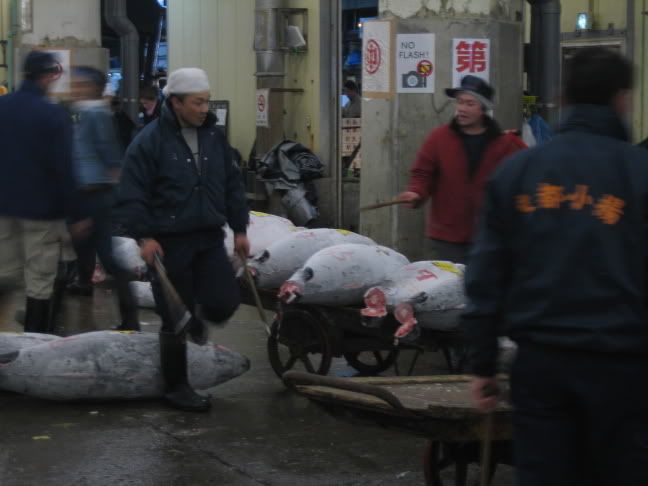 The fish were frozen solid, which made them look fake. Look at that thing! It could eat your face!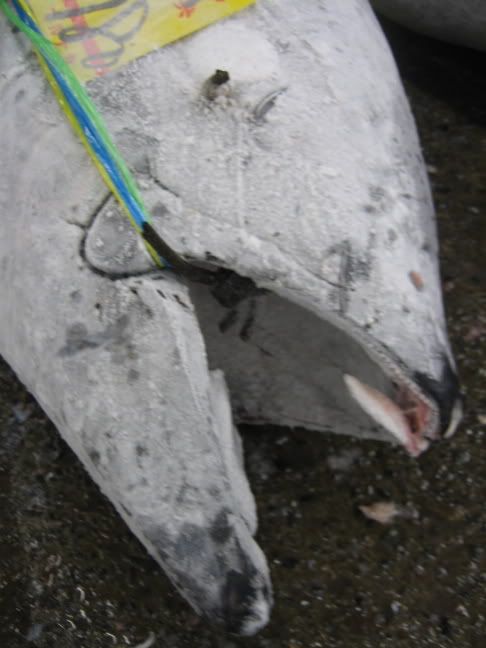 The end of our visit to the fish market was capped by a fresh sushi breakfast at one of the small eateries that neighbor the fish market.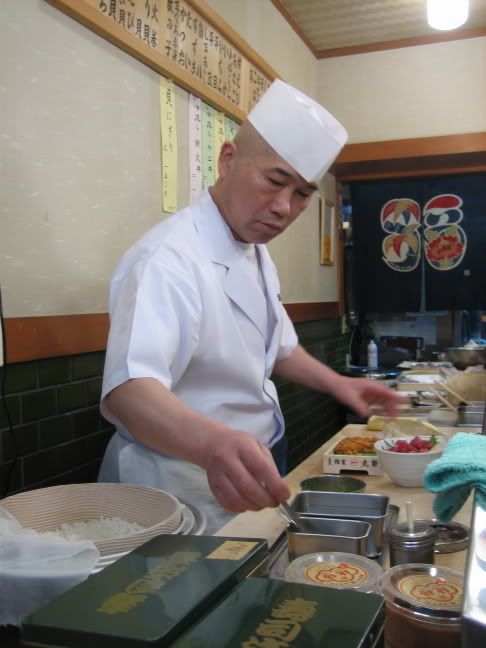 Eating sushi at 7am is kind of weird, but it was really good.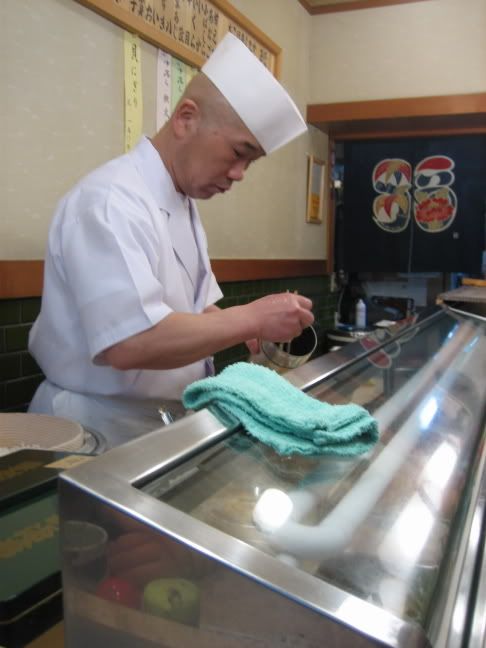 After that, we took the train home amidst the morning commute
Slackers! We've been up since 5am!
Fine, they're all going to work while I spent the rest of the day trying to find the "Freshness Burger" joint I kept hearing about. Still, it was hard work trying to find it. Verdict? The burgers were indeed totally "Freshness!"
Next up: Karaoke pics! I think that'll be it...I don't know anymore.....