Thursday, May 11, 2006
Awesome Mother's Day Gift How To
My sister Cheryl came down from Santa Barbara to visit, and to help come up with an awesome Mother's Day gift.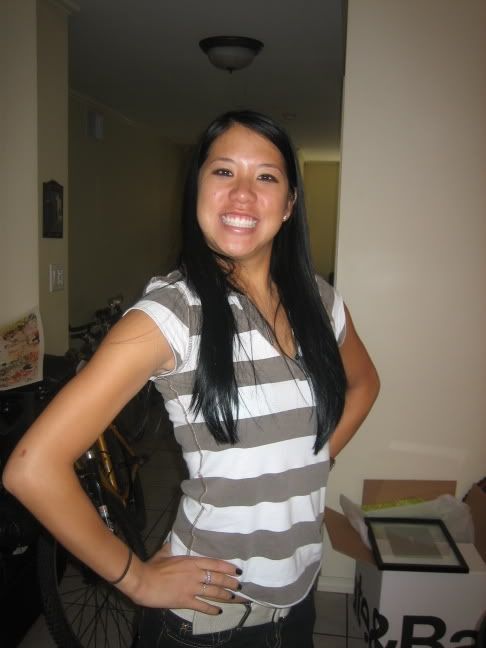 We went to Crate And Barrel to look for some chotzky stuff we thought Mom would like. We've done the whole, useless vase route. We've done the whole buy Mom some stupid plate or wicker basket doodad that will only collect dust route. We needed something new. So what did we end up buying? A ceramic teapot.
Whoa you say. Whooaaaa, a ceramic teapot! I agree. A ceramic teapot alone isn't a good gift. We needed something awesome. After seeing some nice picture frames I had the idea. More "No Look Portraits"!
So, for those of you that don't have a good idea for a gift yet, follow these simple steps:
Step One: Buy picture frame
Step Two: Cut out two pieces of paper that fit inside the frame.
Step Three: Paint pieces of paper two different colors.
Like Yellow and Green for example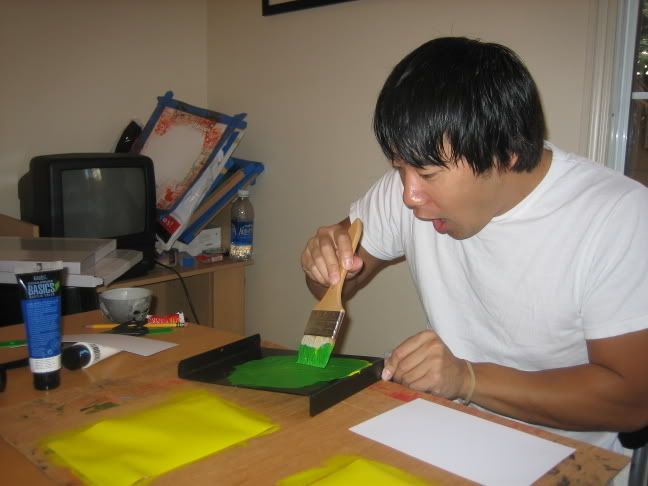 Step Four: Lay painted paper out to dry.
There are four pieces of paper here drying. I knew that this project would be so awesome, I wanted one for my house.
Step Five: After paper has dried, take one color and draw a "No Look Portrait" of someone. Perhaps your sister.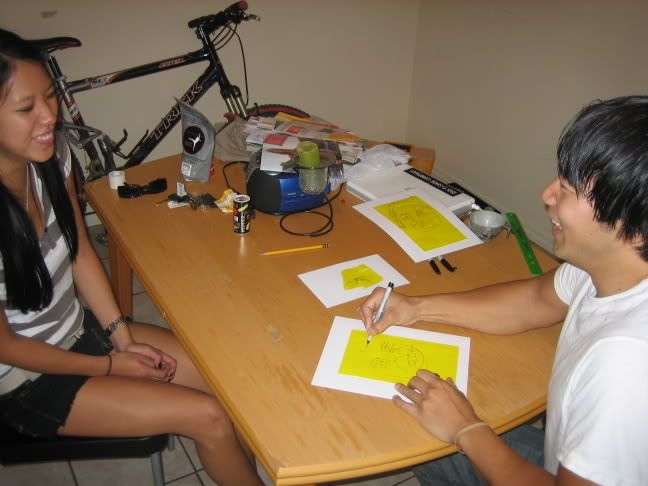 By the way, I really need to get a haircut.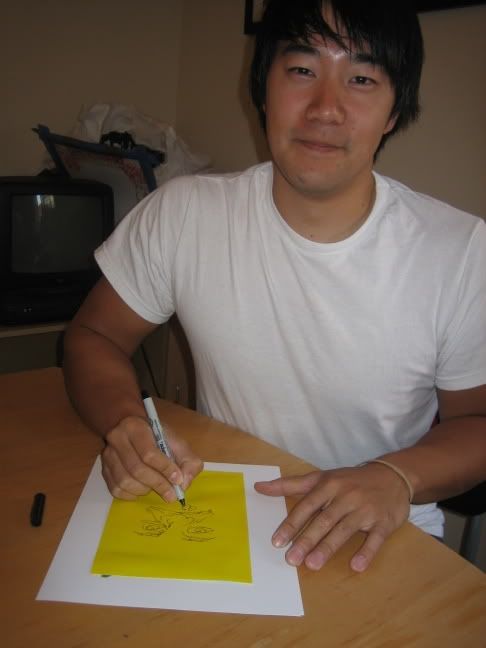 Step Six: Have the other person draw a "No Look Portrait" of you on the other color paper.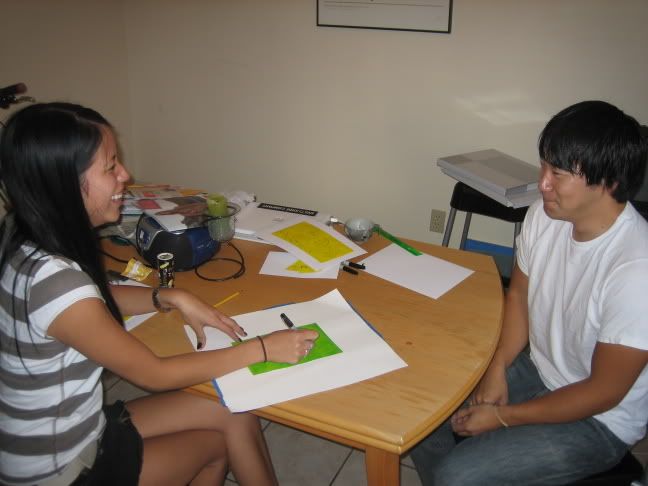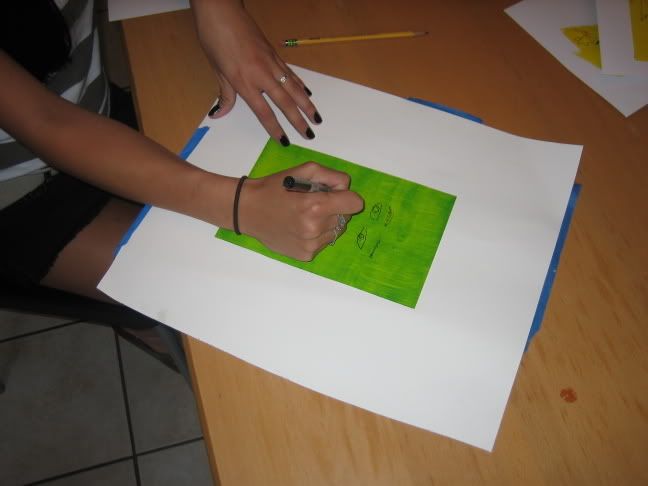 Step Six and a Half: Laugh at what is being drawn on the paper in front of you.
Step Seven: Compare both pictures. Laugh.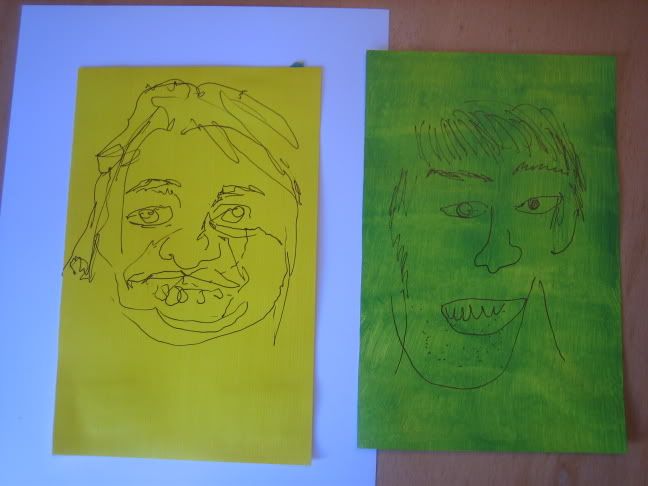 While laughing, talk about how your Mom should be grateful to have talented children like you and your sister. Talk about how Mom should proudly display this fine piece of artwork on the walls at home. Talk about how Mom should be grateful she got anything at all, and that this awesome display of talent should suffice as a gift for all Mother's Days to come.
Step Eight: Place art in frame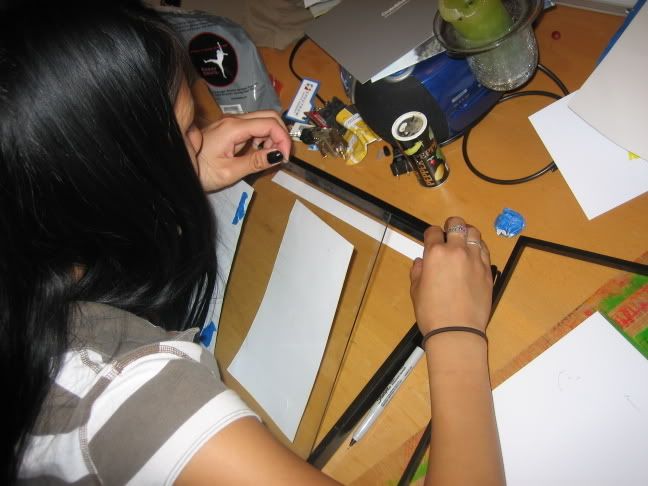 Step Nine: Admire final product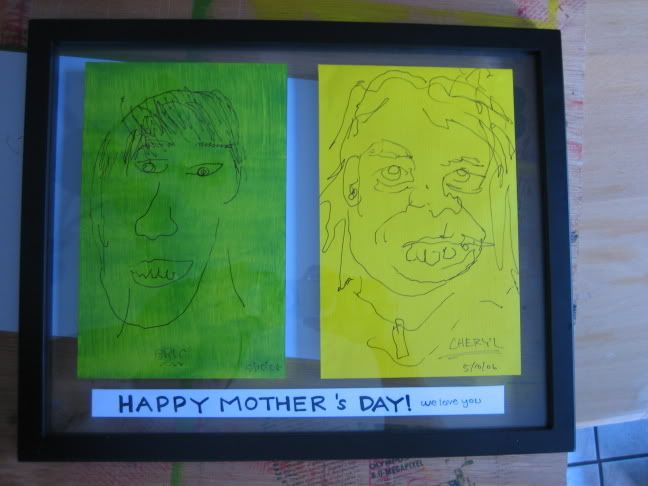 Step Ten: Box ceramic teapot (optional), and artwork. Head to the post office, send it off to your Mom.
Step Eleven: High Five for a job well done!