Monday, January 29, 2007
Super Bowl Sunday Treats
Super Bowl Sunday is coming in a few days. Throwing a party? Providing beer and food?
Try something different this time! How about ordering something from the "Fancy Fortune Cookie" company?
http://www.fortunecookiecatalog.com/
The Fancy Fortune Cookie company is breaking boundaries with their bold new fortune cookie designs. Not soon enough it seems, since many of the dining public have raised their fists in disgust over the stagnant designs fortune cookies have exhibited over the last fifty years. Waiters at Chinese restaurants all over the world are left helpless as patrons scream in disgust "Not this old thing again! When is someone going to change the look of these damned things?!", at the end of each meal.
The same cookie that was met with glee years ago, is now the worst part of every meal at Chinese restaurants, replacing sliced oranges which held the title previously.
The Fancy Fortune Cookie company aims to change all of that, and restore the fortune cookie to popularity.
Their designs are risky. Take for example, current topseller "The Giant Clitoral Hood Fortune Cookie"
The Giant Clitoral Hood Fortune Cookie, weighs over one pound, and is larger than the palms of two outstreched hands. Each one can be personalized, with either white or black chocolate, and outfitted with sprinkles. Nothing commemorates an anniversary or housewarming better than a Giant Clitoral Hood Fortune Cookie.
If the Giant Clitoral Hood Fortune Cookie is too much for your mouth to handle, the Fancy Fortune Cookie Company offers mini cookies from their Cameltoe collection.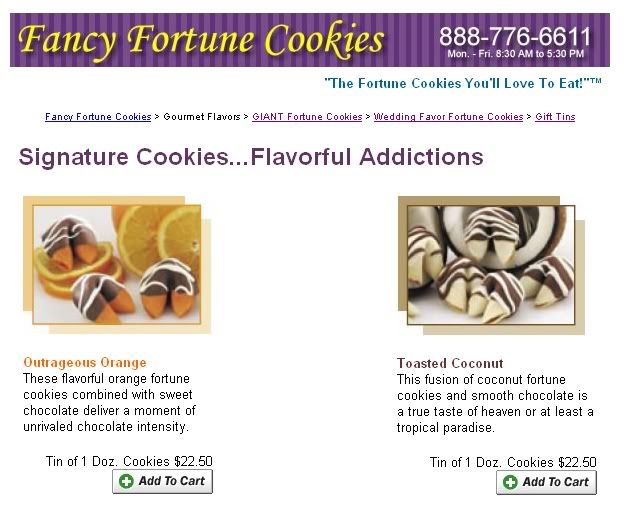 As always, each cookie can be customized for differing tastes.
Is America ready for a new, sexed up version of the fortune cookie? I think so.
So this Sunday, try something new. Order a Giant Clitoral Hood Fortune Cookie from the Fancy Fortune Cookie company today.
Open your mind Quaid, and experience the cutting edge in fortune cookie design!