Thursday, March 01, 2007
Is It Safe?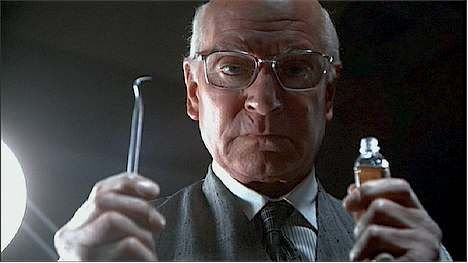 There is a famous scene in the movie Marathon Man, where Dustin Hoffman's character is subject to an unfortunate dental procedure at the hands of a Nazi dentist. In this scene, the Nazi dentist drills into poor old Dustin's teeth without any anesthesia while asking "Is it safe?"
Fuck no it wasn't safe. Not for Dustin's chompers.
Going to the dentist used to be a blast. At least, it was when I was young. Going to the dentist meant toys. After each visit, I got to choose items from the toy box, which was easily enough incentive for me to go.
Now? Not so much.
Recently, after a long period of time, I went to see the dentist. Lately I have been experiencing horrible pain in my teeth when subject to cold foods like ice water, or ice cream. It had gotten so bad that if I were to open my mouth during a winter day, my teeth would hurt. So, I made an appointment to see the dentist to get this shit fixed.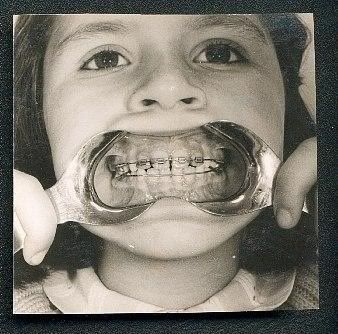 During my visit, the dentist asked me if I grind my teeth at night. I do, sometimes. Many CEO's and high profile businessmen grind their teeth at night due to the high stress levels of their jobs. Since I work in a cubicle on the same floor as a couple of high profile businessmen, I think this statistic applies to me as well.
Apparently, the grinding at night had started to expose the nerves in my upper right teeth, or "molars" if you will. I don't want to bog this post down with too many "medical" or "dental industry" terms so I'll stop at molars.
A plan was discussed, and I set my appointment to see the dentist again in a week, where he would cap the exposed nerve. Rad!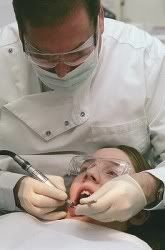 Fast forward to the next week, I found myself sitting in the dentist's chair reading US Weekly. That week's issue featured hot women with breasts. I was intrigued, but before I could finish, the dentist came in and promptly set up for what would turn out to be a fun experience for me..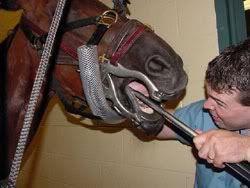 To start, the dentist had to numb the teeth and gums in the upper right side of my mouth, and in order to do that, he had to jab a needle deep into my gums. Sweet! It wasn't that bad actually, the worst part was the initial stab.
After the injection, the doctor left the room to allow time for the anesthesia to take full effect. He returned five minutes later, and immediately got down to business. I tried to voice concern that maybe we should wait for another minute or two just to be safe, but my words just came out "thbhhhthhhh, thbhhthhhhh" followed by spit and drool. Yup, the anesthesia was working, my lips flopped around numbly unable to form words. I thought this was funny, and started laughing, which caused my lips to flop around even more.
About ten minutes later, I started laughing again. This time however, my laughing was at a very inopportune moment. I had caught my reflection in the dentist's glasses, and the ridiculous sight of me with my mouth wide open, containing every manner of dental instruments including the "poker", the "scraper", the "jabber", and the "suction thing" caused me to snicker. Then the sound of my snickering which was more like a snicker/gag, started to make me laugh out loud. The laughing caused me to choke a bit, since my mouth was wide open.
After brief moment to calm myself, and to "grow up" as they say, the dentist got back to work.
For the next fifteen minutes, my mouth was open, crammed to the gills with the dentist's fingers, tools and the suction tool thing. Which by the way, works marvelously when used, however the dentist's assistant merely fashioned the suction thing into a hook where it hung uselessly from my lip, suctioning one meaningless corner of my mouth, allowing saliva and all manner of dental procedure juices to collect causing great discomfort.
"SUCTION! SUCTION DAMMIT!" I kept screaming in my head, my eyes watering. That was probably the worst part.
No, actually, the worst part of the whole procedure was the horrible pain I felt when the dentist ventured a bit too close to the border where the anesthesia ended. Since only one part of my mouth was numbed, the closer he worked his jabber tool to the edge of the anesthesia's effectiveness, the more pain I felt until finally, he hit jackpot. I can't really describe the pain I felt. I could feel it in my tooth, all the way to my upper jaw. It was a weird, terrible pain unlike anything I've felt before. I've suffered a variety of injuries that have caused me great pain over the years. A bicycle chain ring sliced my forearm once during a horrible mountain bike crash, I tore my ACL, gashed my shin to the bone but never, have I felt pain like this. It was crazy. The only way I can describe it is if you take the weird feeling you get when you bite into tin foil and intensify it by a billion, you'll get close.
Based on my muffled cry of agony, and what seemed like a ten foot leap off the chair, the dentist calmly said:
"The anesthetic fades a bit in this area"
No shit!
He then asked me how I was doing.
"Fuuun!" was all I could say.
The rest of the procedure continued without problems. It was just boring and uncomfortable. For the next couple minutes all I could see was the dentist using his tools on my right side, and on my left side, I could see his assistant preparing the next tool the dentist would use. It was kind of like Tetris, but instead of seeing which colorful shape would come next, I got to see which fun dental tool was coming next. Fun!
Then it was all over.
After leaving the dentist, I had to rush to work. The right side of my mouth was still numb. While in traffic I was cut off by some asshole on his cell phone. I was so pissed. I was already mad about being late for work, and now this guy almost hits me while jabbering away on his stupid cell phone.
Seething with anger, I yelled "FUCK YOU!" out of my open window, but it came out "FTHHHHHYUCK YOU!" complete with drool and spittle.
You can't stay mad when that happens.