Friday, November 09, 2007
How Many Snakes Can You Fit In Your Ass?
http://news.yahoo.com/s/ap/odd_snakes_in_a_tub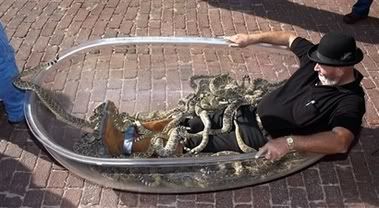 DUBLIN, Texas - Another day, another bizarre world record for Jackie Bibby, the "Texas Snake Man." Bibby spent about 45 minutes in a see-through bathtub with 87 rattlesnakes Monday, fully clothed, shattering his own record by 12 snakes just in time for Guinness World Records Day, which is Thursday. A Guinness official certified the record.

The record was Bibby's latest grab at glory. Last year he set a Guinness-certified record by holding 10 rattlesnakes by their tails in his mouth at once. He said he hopes to break that record Tuesday by squeezing in an 11th.

And in other news, there is still no cure for cancer.